Apple granted ownership of iPhone steel bezel design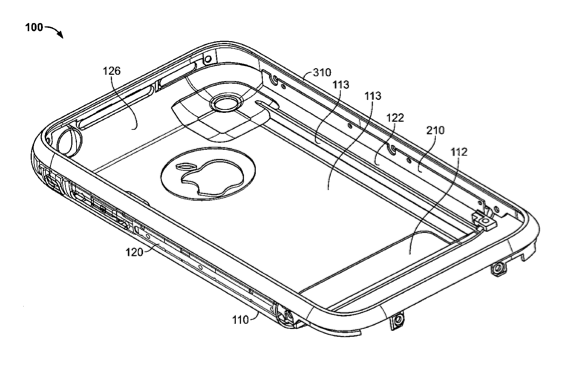 AppleInsider is supported by its audience and may earn commission as an Amazon Associate and affiliate partner on qualifying purchases. These affiliate partnerships do not influence our editorial content.
Apple on Tuesday was granted a patent from the U.S. Patent & Trademark Office for the design of the iconic "cold worked" stainless steel bezel seen on the iPhone.
Originally applied for on July 10, 2008, U.S. Patent No. 7,688,574, entitled "Cold Worked Metal Housing for a Portable Electronic Device," was formally granted on Tuesday. The design is credited to Stephen P. Zadesky, Philip M. Hobson and Tang Yew Tan.
The patent notes that the cold worked stainless steel manufacturing process employed with the iPhone bezel makes it hard and resistant to impacts.
"Cold worked steel also facilitates manufacturing within design constraints and tolerances, and requires very little machining after manufacturing to comply with those restraints," the patent reads.
The invention credited to Apple describes a bezel flush to a housing to form the case of a portable electronics device. The wall of the bezel is inserted into the slot of the brace and is held by a spring that engages both the brace and the wall. The bezel can be removed by disengaging the spring, which can be done with a special tool or magnetic field.
The document notes that portable electronic devices, like phones and MP3 players, are subject to physical impacts that static devices, like a desktop computer or television, are not. Devices like the iPhone and iPod touch need strong cases that can impact the resistance the device will inevitably experience.
"Existing cases, however, are not always easily manufactured, aesthetically pleasing, or sufficiently resistant to impacts," the patent reads. "Accordingly, there is a need for a hard, easily manufactured and aesthetically pleasing case for portable electronic devices."
Though the bezel is now iconic, it may not last in future iterations of the iPhone. In February, sources told AppleInsider that the next-generation iPhone was photographed with an iPad. The iPhone appeared to lack the device's aluminum bezel and was surrounded by black plastic, although it's possible the pictured handset was simply wrapped with a rubberized protective holder.
Also in February, purported fourth-generation iPhone parts showed a largely unchanged design, with a front panel slightly taller than the current model. The alleged iPhone part also included a reflective surface directly above the speaker, which was said to be a different location for the handset's proximity sensor.