Purported 4th gen Apple iPhone parts show largely unchanged design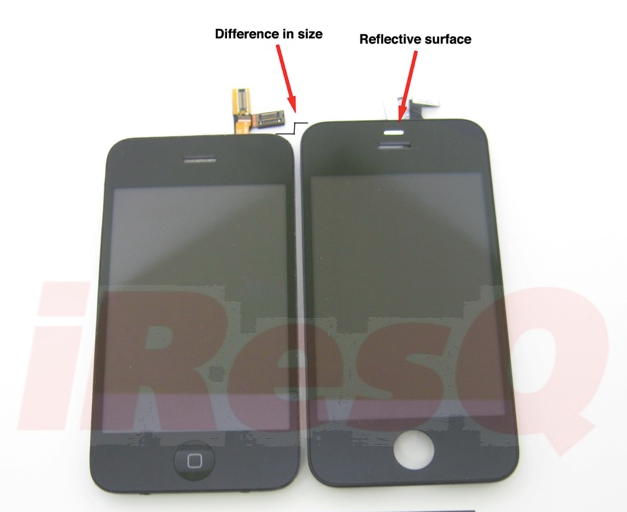 AppleInsider may earn an affiliate commission on purchases made through links on our site.
New pictures claimed to be parts for a prototype fourth-generation iPhone show a front panel slightly taller than the current model, along with some other minor internal design tweaks.
iPhone repair Web site iResQ posted photos of the purported parts of the fourth-generation handset from Apple. The site noted that the alleged front panel is about a quarter-inch longer than its predecessor.
In addition, it has a reflective surface directly above the speaker, which was said to be a likely location for the proximity sensor. That would be in a different location than previous models.
"The LCD appears to be factory glued to the digitizer which is more similar to the first generation iPhones than the iPhone 3G and 3GS," the site said. "The digitizer can be separated from the LCD on the 3G and 3GS models, which should be interesting to all, but for the repair folks like us–this means that the 4G screen repair price will be higher since both parts will have to be replaced at once."
If the parts truly are from a fourth-generation iPhone prototype, they corroborate an earlier alleged next-generation iPhone picture that showed a largely unchanged exterior. Last week, AppleInsider reported that sources said an iPhone prototype was pictured on top of a leaked iPad photograph. The iPhone went largely unnoticed because its design and form factor look essentially identical to the current iPhone 3GS.
Whether the alleged iPhone 4G prototype pictured with the iPad has the same quarter-inch larger screen shown in the supposed prototype parts is impossible to discern.
At a recent Apple company meeting, it was claimed that co-founder Steve Jobs said the next iPhone version will be an "A+" upgrade from the iPhone 3GS. The handset is expected to arrive in June.
People familiar with the matter claim the fourth-generation iPhone will run a version of Apple's custom-built silicon, melding ARM's latest multi-core Cortex reference designs with Imagination's upcoming GPU components. Both will allegedly be on one SoC (system-on-a-chip) package like the new A4 processor found inside the Apple iPad.
Enhanced internals, along with improvements to the iPhone software, are expected to result in improved battery life and speed of the forthcoming handset.