iPad's custom Apple A4 processor includes ARM-based CPU, GPU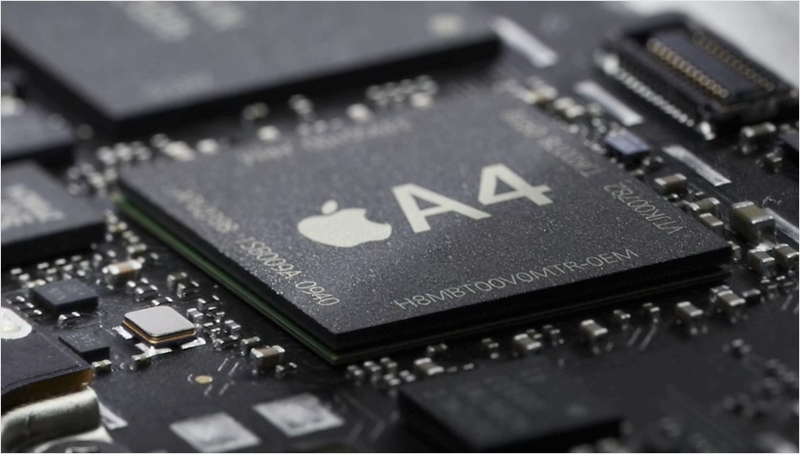 AppleInsider may earn an affiliate commission on purchases made through links on our site.
Details of Apple's custom-built processor inside the newly unveiled iPad are beginning to surface, with a report stating the system-on-a-chip includes an ARM Cortex-A9-based CPU accompanied by a GPU.
According to Bright Side of News, the Apple A4 is based mostly on intellectual property from ARM reference designs. The new, custom chip from Apple, through its purchase of fabless chip designer P.A. Semi, includes the Cortex-A9 MPCore (identical to the processor in the nVidia Tegra and Qualcomm Snapdragon), a ARM Mali 50-series GPU, and a memory controller all on one die.
"The A stands obviously for Apple, and the difference between the Samsung processor inside the iPhone 3Gs and A4 is the clockspeed and the core type," the report said. "A4 runs at 1GHz while the chip on iPhone 3GS works clocked to 0,6GHz. This is one of main reasons why iPad can deliver a lively interface compared to stale iPhone one."
Reference designs for the Cortex-A9 call for either two or four cores. The architecture is the successor to the ARM Cortex-A8 upon which the 600MHz iPhone 3GS is based.
As noted in AppleInsider's hands-on impressions with the new iPad, the next-generation processor even makes Apple's speedy iPhone 3GS seem a little slow. It's possible that the new iPhone model, expected to be introduced this year, could also sport a custom Apple-built chip.
Bright Side of News allegedly learned that Apple and P.A. Semi were contracting with ARM when they spoke with the company's CEO, Warren East, during the Global Foundries event in Las Vegas. As first reported by AppleInsider in 2008, Apple has been a licensee of the ARM architecture for years. Apple purchased P.A. Semi for $278 million in 2008.
Pictured in Apple's iPad video presentation, the new A4 processor was manufactured in September of 2009. Previous rumors have alleged that the processor is likely designed in-house, but manufactured by Samsung.
Apple claims the power efficiency of the chip will allow the iPad to offer users 10 hours of battery life in use, and over a month of standby.
"iPad is powered by our own custom silicon. We have an incredible group that does custom silicon at Apple," company co-founder Steve Jobs said during Wednesday's keynote. "We have a chip called A4, which is our most advanced chip we've ever done that powers the iPad. It's got the processor, the graphics, the I/O, the memory controller — everything in this one chip, and it screams."