Apple releases iBooks for iPad on App Store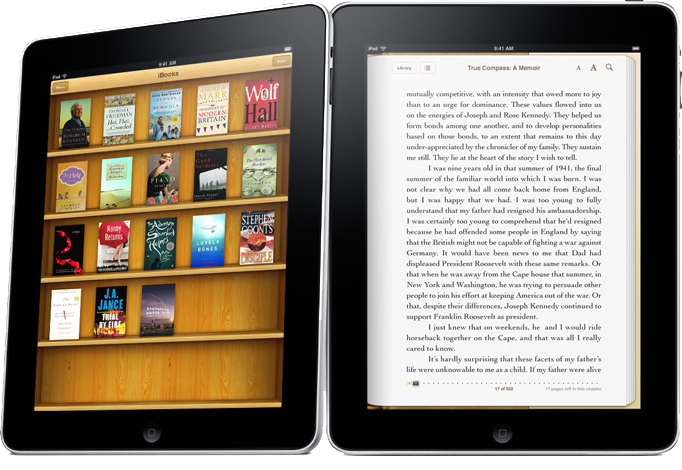 Apple's iBooks application, which includes the iBookstore for purchasing new titles to read on the iPad, is now available for download in the App Store through iTunes.
As a special gift to users, Apple has included a complimentary copy of the classic children's book Winnie the Pooh, by A. A. Milne. An interview with Apple CEO Steve Jobs published this week noted that he was genuinely excited to show off the children's title for the iPad.
"iBooks is an amazing way to download and read books, designed exclusively for iPad," Apple's official description reads. "iBooks includes the iBookstore, where you can download the latest best-selling books or your favorite classics — day or night. Browse your library on a beautiful bookshelf, tap a book to open it, flip through pages with a swipe or a tap, and bookmark your favorite passages."
iBooks is only available in the U.S. and can only be used on an iPad. Like the App Store, the free, 18.1MB software requires an iTunes Store account. The application supports books in the ePub format, and those who have upgraded to iTunes 9.1 can sync DRM-free ePub documents from outside the iBookstore.
Features of the news software, according to Apple, include:
Download many of your favorite books from the included iBookstore
Read a free sample of any book on the iBookstore before making it part of your collection
Reorder your books on your bookshelf or browse them in a list sorted by title, author or category
Easily adjust your screen brightness to find the perfect lighting for any environment
Change the font size and pick from five included type faces to make your books more comfortable to read
Find a word, character, or phrase anywhere in your book with the built-in search feature
Quickly find a specific page using the page navigator at the bottom of every page
Highlight your favorite passages with the built-in bookmarking feature
Add books in the industry-standard ePub electronic book format to iTunes and sync them to iPad
iBooks supports amazing accessibility features in iPad, such as speaking the words on a given page
Apple's iBooks application, which includes the iBookstore marketplace, will not come preinstalled on the iPad, and must be downloaded from the App Store. One recent study found that one third of potential iPad buyers intend to use the device to read books and newspapers.
Introduced when the iPad was unveiled in January, the iBookstore includes major book publishers HarperCollins, Hachette, Penguin, Macmillan, and Simon & Schuster. In addition to major publishers, there are avenues for self-published authors to make their content available on the iPad's exclusive store.
The store will also come with 30,000 free e-books from Project Gutenberg. The public domain titles will be available without charge, and will head off any attempts by third parties to profit from literature that is freely available.