Amazon reveals all-new Kindle e-book app for Apple iPad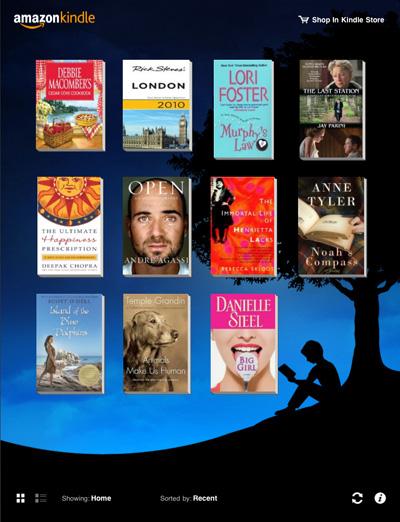 In addition to their own respective e-ink hardware devices, booksellers Amazon and Barnes & Noble will also release their own separate digital bookstores for Apple's iPad and other touchscreen tablet devices.
Both companies revealed to The New York Times that they will create new digital readers and storefronts in addition to their existing applications for the iPhone and iPod touch. The App Store software will also compete with Apple's own iBooks application and accompanying iBookstore, which will also be available for download on the App Store rather than coming preinstalled on the device.
In particular, the Kindle application from Amazon was demonstrated to a Times reporter. It features the ability to slowly turn pages with fingers, much like Apple's own iBooks software.
"It also presents two new ways for people to view their entire e-book collection, including one view where large images of book covers are set against a backdrop of a silhouetted figure reading under a tree," the report said. "The sun's position in that image varies with the time of day."
Amazon also created a section on its Web site to promote Kindle apps for tablet computers, and the promotional material specifically cites the iPad version of the software.
"Tablet computers, including the iPad, are coming and with our free app you'll be able to read more than 450,000 Kindle books," the page reads. "Like all Kindle apps, Kindle for tablet computers will include Whispersync technology, which automatically synchronizes your last page read, bookmarks, notes and highlights across your Kindle and Kindle compatible devices, including PC, Mac, iPhone and BlackBerry."
Last week, Amazon released the free beta of its Kindle desktop application for the Mac. For Mac OS X 10.5 Leopard and newer, the software allows Mac users to purchase and download from Amazon's catalog of digital books without the need to purchase Kindle hardware.
Meanwhile, Barnes & Noble has a team of 14 developers based at its digital unit in New York, working in a "windowless room" on redesigning the company's existing iPhone application for the iPad. It will reportedly allow users to use finger gestures to flip through their books, and present content in multiple font sizes and colors. Earlier this month, the company had already revealed its intent to release an iPad e-reader application.
While some media outlets, such as the Times and The Wall Street Journal have received iPad hardware for testing purposes early, Amazon and Barnes & Noble have not had access to the device. One recent report said the Journal's iPad was kept "under padlock and key,", and the Times report this week said essentially the same thing.
"The companies must agree to keep the iPad hidden from public view, chained to tables in windowless rooms," it said. "This although the basic look of the iPad stopped being a secret in January."
Because Barnes & Noble and Amazon have only been able to test their applications in the simulator mode included in the iPhone OS 3.2 software development kit, they will not have software available for the iPad's April 3 launch date. However, the Journal, Times, NPR and Time magazine will all reportedly have applications available for download at launch.
Both Amazon and Barnes & Noble also have their own black-and-white e-ink readers, dubbed the Kindle and Nook, respectively. One recent study found that consumer interest in the Kindle dropped sharply after Apple introduced its multimedia iPad, which features a full color LCD screen.