7.5M iPhones estimated sold in Q1 2010, users stay in Apple ecosystem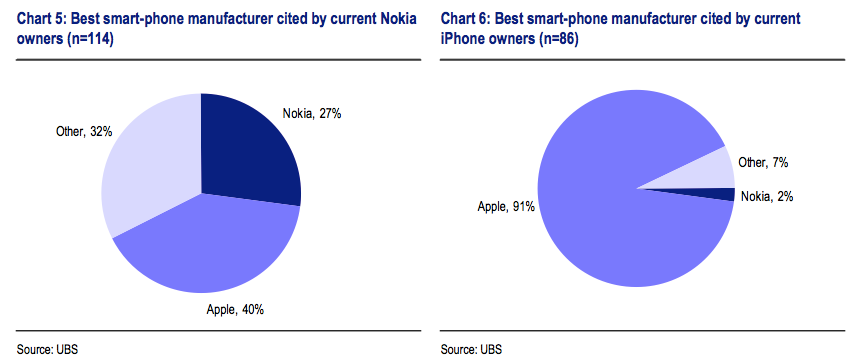 AppleInsider is supported by its audience and may earn commission as an Amazon Associate and affiliate partner on qualifying purchases. These affiliate partnerships do not influence our editorial content.
Apple is projected to have sold 7.5 million iPhones in the first three months of 2010, and a new study suggests those users won't be leaving anytime soon, with high retention rates due to the investments many users have made in App Store software.
Analyst Maynard Um with UBS issued a new note to investors Wednesday morning, in which he noted a recent Q-Series survey that found Apple leads the smartphone industry in both mindshare and retention rate. Among respondents, 56 percent said they believe Apple is the best smartphone manufacturer, and the implied retention rate among a sample of 310 users is 95 percent — well beyond, Um noted, anything else seen ever in the industry.
"While we believe that this retention can change rapidly, anecdotally during our survey we even received emails from three respondents asking when the next iPhone will be available," the analyst wrote.
A whopping 90 percent of iPhone owners think that Apple is the best handset maker on the market. Compare that to those who own a BlackBerry, with 42 percent saying Research in Motion is the best.
In fact, 40 percent of surveyed customers who own Nokia handsets believe Apple is the best smartphone manufacturer there is. Just 27 percent of users chose their own brand. Nokia smartphone owners were more loyal, but still only 60 percent said Nokia was the best smartphone manufacturer.
Um has raised his iPhone unit estimates for the March 2010 quarter to 7.5 million, up from his original prediction of 7 million. He said checks indicate that there is better-than-expected demand for the iPhone both domestically and internationally.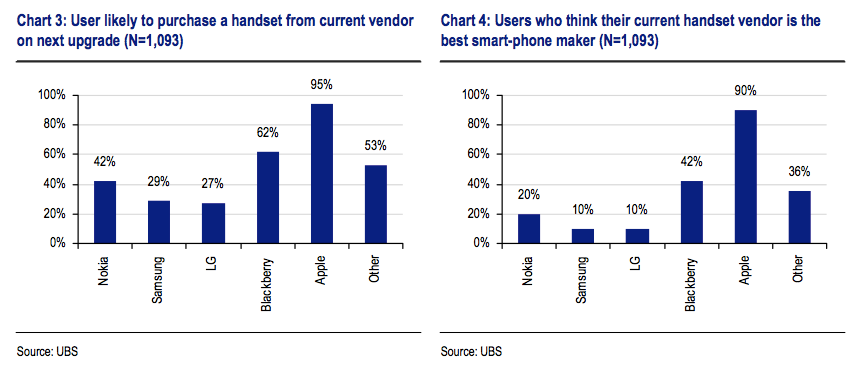 The report also issued the first estimate from UBS on iPad sales. Um expects Apple to ship 2.1 million in its 2010 fiscal year, growing to 4.6 million in 2011. Apple revealed this week that the new device sold 300,000 in its first day of availability.
"Although we remain bullish on the long term evolution of the iPad into the central console for the home, over the near-/medium-term, until we see more compelling apps to drive mass market adoption, we prefer to be cautious on overall adoption," he said.
Um declined to predict launch day sales, a guess on which some other analysts missed the mark. But Um's "cautious" prediction on first-year iPad sales is still below the predictions of many on Wall Street.
The 12-month price target for AAPL stock from UBS remains unchanged at $280. The firm has also reiterated its recommendation of "buy."