Apple exploring USB 3.0, DisplayPort combo in new mini connector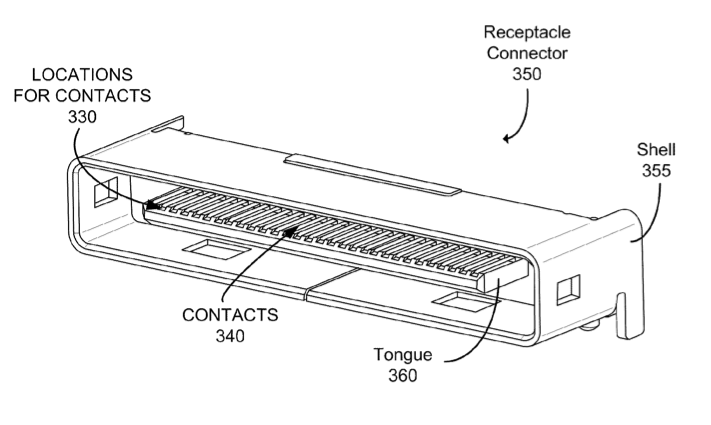 AppleInsider may earn an affiliate commission on purchases made through links on our site.
A new proprietary cable from Apple could simultaneously transmit both USB 3.0 and DisplayPort data, cutting down on cable clutter with future Macs and allowing easier video output with portable devices.
Revealed this week, Apple's patent applications for a "Reduced Size Multi-Pin Male Plug Connector" and "Reduced Size Multi-Pin Female Receptacle Connector" aim to offer more functionality with greater data transfer rates with a smaller cable connector form factor.
"Electronic devices such as media players and related devices have become ubiquitous over the past several years," the application reads. "As they have proliferated, the types of styles and electronic devices have diversified. During this time, a theme has been that consumers want more functionality packed into an ever-decreasing form factor."
Apple's solution describes a cable that employs two new standards — USB 3.0 and DisplayPort — in one connector. The male plug connector would "accommodate a plurality of contacts spaced apart in a single row," with multiple contact locations capable of carrying both USB 3.0 and DisplayPort data.
Utilizing the new, next-generation, high-speed interface standards could also allow Apple to create smaller connectors than the ones currently used by most consumers. The smaller size and combination of standards could be more convenient and simpler to use.
Apple notes that the invention could be used for a variety of devices, including desktops, notebooks, and portable media players. Images accompanying the application show a male plug connector attached to an iPod.
The application mentions that the USB 3.0 standard offers data transfer rates of 4.8 Gbps, while DisplayPort can transmit 4.1 MP when four lanes of contacts are available.
The invention is credited to Stephen Paul Zadesky, Brian S. Lynch and Jason Sloey. It was filed for on Sept. 29, 2009.
Last year, it was rumored that Apple pushed Intel to develop a new high-speed optical data port dubbed "Light Peak." The new cabling standard offers a throughput of 10Gbps that aims to replace a variety of existing ports, including USB, FireWire and DisplayPort.
Last November, the Mini DisplayPort originally developed by Apple for its portable Macs was officially adopted by the Video Electronics Standard Association. The form factor is much smaller than the previous Digital Video Interface and VGA connectors.
Though the Mini DisplayPort technology was originally created by Apple, earlier this year the Cupertino, Calif., company agreed to license the interface to VESA for its own DisplayPort standard. Prior to the agreement, Apple had to license its technology itself and made the standard free, as an incentive for rapid adoption.