Number of high school students planning to buy an iPhone doubles
AppleInsider is supported by its audience and may earn commission as an Amazon Associate and affiliate partner on qualifying purchases. These affiliate partnerships do not influence our editorial content.
Interests in Apple's iPhone amongst high school teenagers is on the rise, according to a new study from investment research firm Piper Jaffray, which found that nearly twice as many students are planning to buy one of the touchscreen handsets in the next 6 months compared to last year.
The findings were part of Piper Jaffray's 19th bi-annual teen survey, which polled 6,000 high school students — including 261 who responded to the Apple-related survey — over the past few weeks about their interest and buying patterns in portable digital audio and online music products.
During the firm's 2009 spring survey, 8% of students surveyed owned iPhones and an additional 16% expected to buy an iPhone in the following 6 months. But in its most recent study, the iPhone's share amongst teens rose to 14%, while planned purchases nearly doubled to 31%.
"Historically, the interest in buying an iPhone has correlated to future market share gains among teens," said analyst Gene Munster. "Both interest and actual market share has grown steadily since Apple introduced the iPhone, and we expect this to continue. Also, the popularity of the App Store and the quality of games available for the iPhone have likely led to the rising interest among the teen demographic in recent months."
Meanwhile, Apple's market share in the portable media player (PMP) category was 92%, up from 87% in the study six months ago. Overall, 86% of students own a PMP (down from 90% six months ago). Interest in buying a PMP in the next 12 months, including first time buyers and replacements, pulled back slightly to 31% (down from 40% six months ago but in line with historical averages). Of those planning on buying a PMP in the next 12 months, 91% expect to buy an iPod.
"Apple is dominant in the market, and the lead appears to be growing as the market nears saturation," said Munster. "In light of this, we see Apple turning its focus to secondary iPods like the shuffle, and iPods with more features like the iPod touch."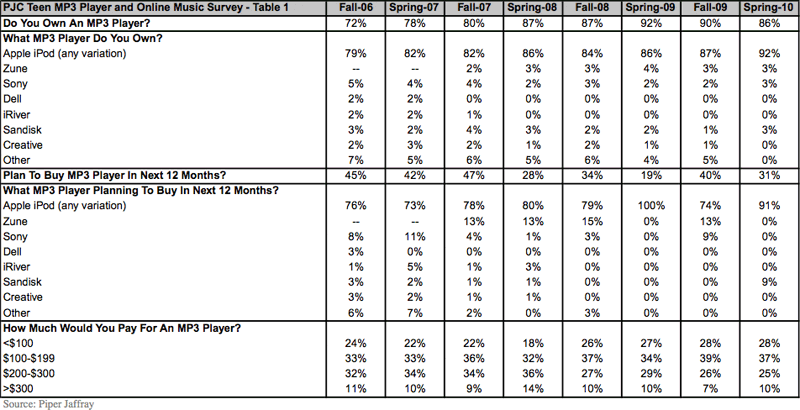 The analyst added that the recent announcement that Apple will include a Game Center social gaming network as part of iPhone Software 4.0 highlights the company's focus on the gaming sector, which he sees as "an important one for teens and their mobile devices" that will give the iPhone maker the early lead.
Piper Jaffray's survey also found that percentage of students downloading music remains high at 82%, which is essentially unchanged from six months ago. However, most (57%) are using free (P2P) music sharing networks instead of paying for music legally, but illegal downloads have lost some popularity in recent years (down from 64% 3 years ago).

In the online music store category, iTunes' share remains high, approaching saturation, at 92%. With the addition of new features to iTunes software the firm said it believes Apple is well-positioned to hold its lead and even extend it. Also, the App Store has likely been a driver for teens to use the iTunes Store for free apps, then look to purchase music in the music section of the store.
"The bottom line [is that] Apple's dominance in the consumer electronics and online music markets is going seemingly unchecked, capped by market saturation for iPod and iTunes usage," Munster wrote. He maintained his Overweight rating and $287 price target on shares of Apple.