Nvidia says new MacBook Pro graphics switching isn't Optimus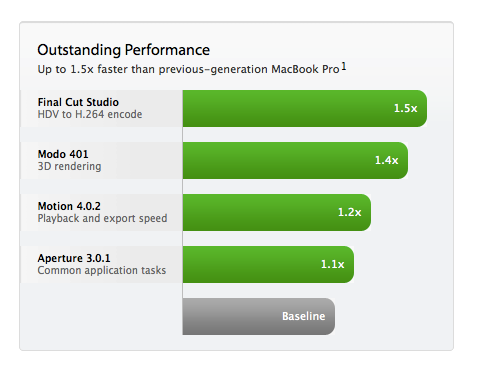 AppleInsider may earn an affiliate commission on purchases made through links on our site.
The automatic graphic switching capabilities in the new 15- and 17-inch MacBook Pros are accomplished with a solution created entirely by Apple, and do not rely on Nvidia's established Optimus technology.
An Nvidia spokesperson confirmed to AppleInsider Tuesday that Apple's new high-end MacBook Pros include an automatic graphics switching solution that is the Mac maker's own creation. Nvidia had no input on Apple's solution and would not comment on the utilized technology.
Earlier this year, Nvidia introduced a new technology called Optimus, which is designed two work alongside Nehalem notebook designs — like the Core i5 and Core i7 — that include Intel's integrated graphics processor, as well as a discrete Nvidia graphics chip. The feature chooses the best of the two processors for running a given application. While the end result is similar, Apple's automatic graphics switching solution is not Optimus, Nvidia said.
This switching is accomplished on-the-fly with no input from users. Apple also offers users the option to switch solely to discrete graphics and turn off the automatic switching.
The top-tier MacBook Pros include the Nvidia GeForce 330M graphics processor, which is more than twice as fast as the low-end 320M found exclusively in the new 13-inch model. The 330M, however, is not an exclusive GPU, as it has been found in competing PCs that have already come to market.
Apple on Tuesday introduced its new line of MacBook Pros, with the 15- and 17-inch models sporting the proprietary graphics switching capabilities. The feature dynamically switches between the 330M for peak performance, and the integrated Intel HD Graphics for more energy efficient operation. Apple said the tightly integrated software and hardware solution allows battery life of 8 to 9 hours on the new MacBook Pros.
It was in October 2008 that Apple jettisoned Intel's supporting chipsets from its MacBook line, and opted instead for the better performance offered by Nvidia's GPUs. MacBook Pros received similar treatment, with the addition of a secondary, more powerful Nvidia GeForce 9600M GT discrete graphics processor for higher performance operations.
Apple had to rely on graphics switching capabilities in its new notebooks introduced Tuesday because the new Arrandale processors feature the major northbridge chipset memory controller components built in. The architectural changes through Arrandale and an ongoing lawsuit that has forced Nvidia to halt the development of future chipsets have required PC manufacturers like Apple to rely on proprietary Intel chipsets and their integrated graphics processors. Apple's automated switching solution provides use of both the Intel integrated graphics processing power, as well as Nvidia's 330M GPU.
Apple has touted that the 330M is the "fastest graphics ever" found in a Mac notebook. The high-end discrete graphics processor is available only in the 15- and 17-inch MacBook Pro models.
"With 48 processing cores and up to 512MB of dedicated video memory, this graphics processor delivers even more horsepower than the previous generation," the company said. "And you don't have to sacrifice efficiency for speed: The NVIDIA GeForce GT 330M is up to 30 percent more energy efficient than its predecessor. For even greater power savings, MacBook Pro also includes integrated Intel HD Graphics."