Nvidia 320M GPU made especially for Apple's new 13-inch MacBook Pro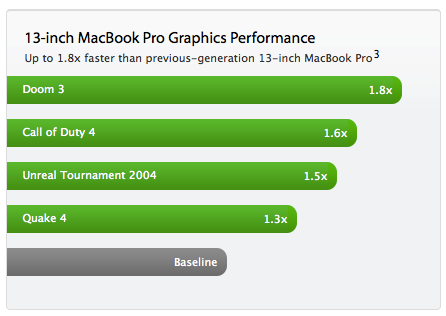 While the GeForce GT 330M featured in the new 15- and 17-inch MacBook Pros has already been found in competing notebook PCs, the new 13-inch MacBook Pro sports the Nvidia 320M, a graphics processor created just for Apple.
An Nvidia spokesperson told AppleInsider Tuesday that the new 320M was made especially for Apple, and is the successor to the GeForce 9400M, introduced in 2008. The 320M is an integrated graphics chipset for notebooks based on Intel's Core 2 Duo line of processors.
According to Notebookcheck.net, the 320M does not have dedicated graphics memory, but uses shared memory for the system for its graphics processing, giving it poorer performance than a GPU with dedicated memory. The 320M (not to be confused with the GeForce GT 320M) is based on the GT216 core, and offers 48 shader cores.
The report said the gaming performance of the 320M should be comparable to, but slightly better than, a 310M. The 320M also supports PureVideo HD for high definition decoding within the GPU. The processor can also be used to encode videos.
In announcing its new line of MacBook Pros on Tuesday, Apple revealed that the GeForce 320M GPU offers up to 80 percent faster graphics processing. It also helps the 13-inch MacBook Pro achieve 10 hours of battery life. Apple called the 320M the "fastest integrated graphics processor on the market."
The 13-inch model also includes faster Core 2 Duo processors, reaching speeds up to 2.66GHz and featuring a 1066MHz frontside bus with 3MB of shared L2 cache.
Featured on the 15- and 17-inch models is the 330M, which Apple said is more than twice as fast as the low-end 320M. Apple said the GT 330M "provides smooth, crisp on-screen graphics for the most demanding 3D games, creative software and technical applications."
The 15- and 17-inch MacBook Pros also include automatic graphics switching, which Apple has dubbed a "breakthrough" technology. It allows the system to switch graphics processors on the fly, giving users performance when they need it and better battery efficiency when they don't. AppleInsider first revealed Apple was planning dual graphics technology in its future MacBook Pros in February.