Adobe slips mobile Flash Player 10.1 to second half of 2010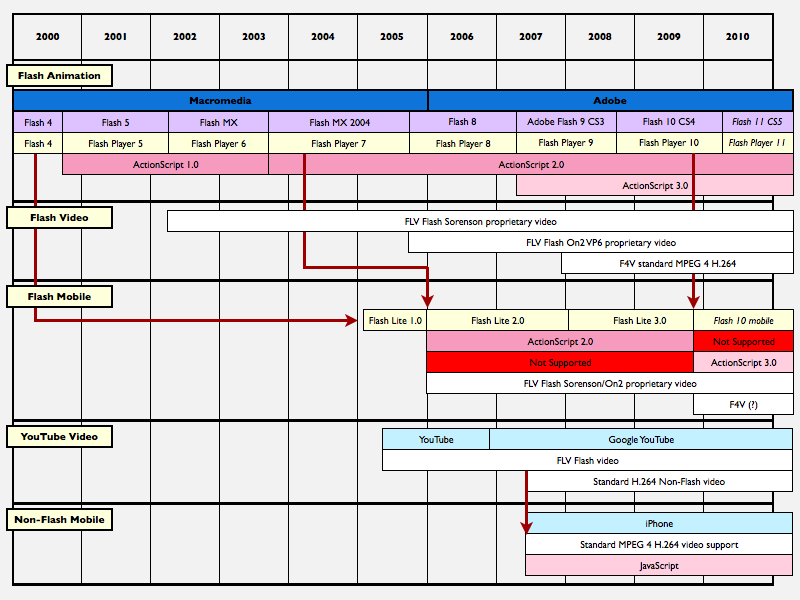 After mounting an intense attack on Apple for not supporting Flash on its iPhone OS mobile devices, Adobe has admitted that it will not be able to ship its promised Flash Player 10.1 for mobile platforms until the second half of the year.
Adobe's Flash Player 10.1 has been widely publicized as being the first version of the company's runtime that will enable mobile devices to play most of the Flash content originally designed for playback within web browsers running on the PC desktop.
The new 10.1 version was initially targeted at Android and Palm's webOS, with developer preview editions released over the last few months. Adobe has since committed to also supporting RIM's Blackberry OS, Symbian, and Microsoft's Windows Phone 7, which is slated for release this winter.
The company originally intended to release Flash 10.1 in the second half of 2009 (as depicted in the timeline below), then the first half of 2010. The latest slip now makes the release a year late. Despite its problems in delivering a real version of Flash for mobile devices, Adobe executives are seeking to pin the blame on Apple for not even wanting to wait for Adobe and its promised mobile Flash runtimes.
Engadget reports that Adobe's chief executive Shantanu Narayen told Fox Business that Apple's disinterest in bundling the upcoming Flash Player on the iPhone OS was a business rather then technology decision, and that it "hurts customers," even though his company hasn't ever shipped a full mobile version of Flash for any platform that actually works with the broad array of Flash content users might want to view.
There is no mobile version of Flash
Existing mobiles that say they run Flash really only support old versions of the runtime (such as Sony's PlayStation Portable, which runs Flash 6 from 2002, or the legacy Palm OS, which runs a very old version of Flash 5 from a decade ago) or Adobe's "Flash Lite," a version that does not even aspire to playback the same content as desktop versions (it is based on Flash 8 from 2005). Symbian and Windows Mobile are limited to Flash Lite playback.
Adobe's problems in delivering a real version of Flash for mobile platforms is complicated by the fact that most Flash content is not well suited to play on a small screen, and particularly not in a multitouch environment where desktop browser conventions of a mouse pointer and mouseover events are simply not present.
Flash is also hampered by the memory and processor limitations inherent in mobile devices. The upcoming 10.1 version of Flash for mobile devices will demand a fast Cortex A8 processor, which means it won't run on anything but the highest-end Android, Palm, Blackberry, and Symbian phones sold over the last several months. Even if Apple wanted to bundle Flash 10.1, it would only minimally work on the iPhone 3GS and newer products.
In February, Apple's chief executive Steve Jobs reportedly told executives from the Wall Street Journal that Flash was a CPU hog riddled with security holes and dismissed his interest in working with Adobe to fix Flash playback in saying, "we don't spend a lot of energy on old technology."
Adobe's inability to ship Flash Player 10.1 on schedule means that the company's current 0% share of the mobile market will continue through the second half of the year. The fact that more than half of the world's mobile web traffic is originating on devices running Apple's iPhone OS also means that Adobe won't gain more than a minority share of the mobile market even once it actually ships its first functional version of Flash for mobiles.
This is in stark contrast to the 96% installed base Adobe claims for Flash on desktop PCs. With mobile devices becoming an increasingly important way for content creators and advertisers to reach people, the fact that they simply can't currently do that using Flash is a serious problem for Adobe right now and into the near future.
Adobe also hopes to get Flash Player installed in tablet devices running Android and Chrome OS later this year in order to head off a similar issue with Apple's iPad, which will similarly not run Flash. If Flash becomes the primary way to deliver dynamic content, games, and apps for Android, it will frustrate Google from being able to build a competitive native platform that can attract custom mobile development. It will also impede Google's ability to push HTML5 as the preferred way to deliver applications on its upcoming Chrome OS.
In addition to facing competitive pressure from Apple's App Store and its viable business model as a market for third party developer's content and games, Adobe is also scrambling to make Flash competitive with the emerging HTML5, which enables web developers to deliver rich apps and multimedia playback without resorting to an external plugin.
Flash also faces threats from Microsoft's Silverlight. While Silverlight is currently confined (like Flash) to the PC desktop as a web browser plugin, Microsoft hopes to rapidly push its Flash-alternative platform into its mobile devices, making Silverlight the primary way to create apps for Windows Phone and Zune.
Like Google, Microsoft is currently pushing Flash as a competitive feature checkbox, apparently in an effort to create the impression that Flash is important to browsing the web on mobile devices, and that Apple's iPhone OS users are therefore missing out. Once Microsoft delivers a mobile version of Silverlight, its commitment to Flash could evaporate quickly however.