Rhapsody adds offline listening to iPhone app, Israel iPad ban lifted

Online subscription streaming service Rhapsody has added the ability to download playlists for offline listening via its iPhone application. Also, this past weekend Israel formally lifted its ban on iPad imports, and Apple co-founder Steve Wozniak revealed that an Apple engineer was fired for showing off a 3G iPad.
Rhapsody adds playlist downloads
Released on Sunday, version 2.0 of the Rhapsody iPhone application (iTunes link) still requires a $10 per month subscription to the online service. But the latest update allows users to download playlists to their device, and listen to music when an Internet connection is not available for streaming of media.
"The 2.0 version of the Rhapsody app lets subscribers download their favorite Rhapsody playlists to their iPhone, iPod touch or iPad so they can listen anytime — even when they're not connected to the Internet," the company's official blog reads. "Now, your favorite songs will live on your device, and you can listen to them anywhere: on the subway, on an airplane, even on a submarine."
Playlists can be downloaded through a 3G or Wi-F connection, and can allow downloads of a range of songs on a playlist, or one specific album in its entirety.
It's quite a change from last August, when the subscription service submitted their application to Apple without even knowing if the Cupertino, Calif., company would accept it onto the App Store. At the time, some had speculated that the fact that the product would allow users to bypass Apple's iTunes Music Store could lead to its rejection.
The download feature has also beaten rival platforms Android and BlackBerry to the punch. Rhapsody said it plans to release versions for those platforms in the next few months. And it said it will offer a new iPad-specific application later this year when iPhone OS 4.0 offers multitasking capabilities.
On Sunday, Israel began accepting imports of iPads into its country. Two weeks before, the nation's customs had begun confiscating the hardware out of fear they would interfere with other wireless devices.
According to Reuters, the country noted that it had confiscated 20 iPads since the ban went into place that would be returned to their owners.
Last year, Israel's security practices came under scrutiny when an American traveling to Jerusalem had three bullets shot through her MacBook. The woman was reportedly compensated for the loss.
'Woz' says Apple employee was fired for showing 3G iPad
In a guest column for Gizmodo, Apple co-founder Steve Wozniak revealed that the Apple engineer who lost an iPhone prototype was not fired. But a test engineer who showed him an unreleased 3G iPad the night of the Wi-Fi iPad launch was terminated from his position.
"I opted to spend 2 minutes with Numbers on this iPad, trying some stunts I'd seen on Apple's website demo video," Wozniak wrote. "I was not told that it was a 3G model and I had no way to know that. I was told that this engineer had to wait until midnight to show it outside of Apple's secure area. And I'm an Apple employee who he was showing it to. My guess is that he was allowed to take the iPad outside of the secure area but still not supposed to show it."
He concluded by suggesting that firing that employee was a mistake, as he "doesn't play the rumor mill game" and had "little interest" in seeing the device for more than a few minutes.
"Product secrecy is good for Apple and should be strictly enforced, but maybe 10% of niceness and 90% of strictness is OK too," he said.
The device was shown of at the San Jose Valley Fair Apple store during the iPad launch, and Engadget was provided with a photo of Wozniak holding the device. "An Apple engineer apparently walked through the queue with it," the report said at the time.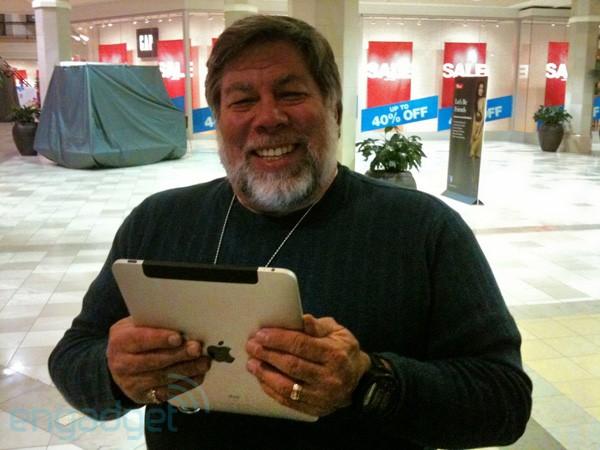 The iPad with both 3G and Wi-Fi will be available in the U.S. on April 30. Both the Wi-Fi and 3G models of the device will be available internationally in late May.