Digital music grows $363M in 2009, iTunes a quarter of all U.S. sales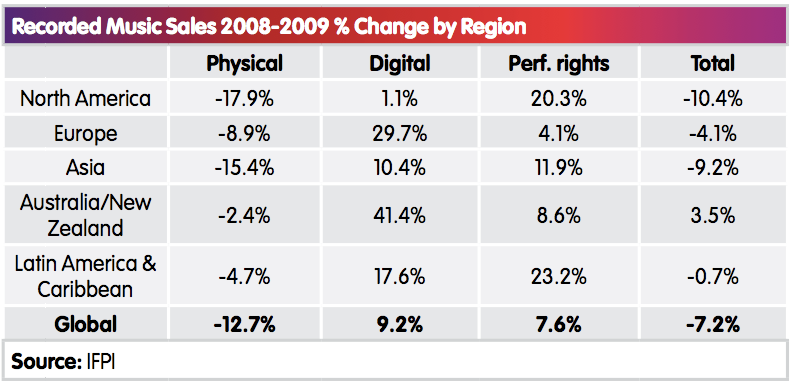 AppleInsider may earn an affiliate commission on purchases made through links on our site.
Though overall music sales declined $1.3 billion in 2009, digital downloads grew $363 million to $4.3 billion, with Apple's iTunes representing more than a quarter of total digital and retail U.S. sales.
The figures come from the recently released Recording Industry in Numbers report from the International Federation of the Phonographic Industry. As reported by paidcontent.co.uk, global digital music sales grew 9.2 percent in 2009, and now make up over a quarter of total music income. This as the worldwide market decreased by 7.2 percent to $17 billion.
Digital sales, however, were relatively stagnant in the U.S., with just 1.1 percent year-over-year growth in 2009. Domestically, Apple's iTunes represents more than a quarter of all music sales, both digital and retail.
Because of Apple's dominant market presence, the report suggested that improvements to record sales in the U.S. must come from the iPod maker.
"The industry must hope Apple innovation can provide it with another shot in the arm," author Robert Andrews wrote. "iTunes Store boosted sales after its launch in 2003 - so maybe a subscription iTunes offering can do it again."
Together, the U.S. and Japan — the two biggest markets for the music industry — were responsible for 80 percent of the sales loss in 2009. With Japan and the U.S. taken out of the equation, global music sales would have fallen just 3.2 percent.
The report from the IFPI noted that piracy is still one of the music industry's "biggest obstacles," noting that growth can return for the first time in over a decade if local governments can "deal" with piracy. The record industry has seen its sales decrease every year since 1999.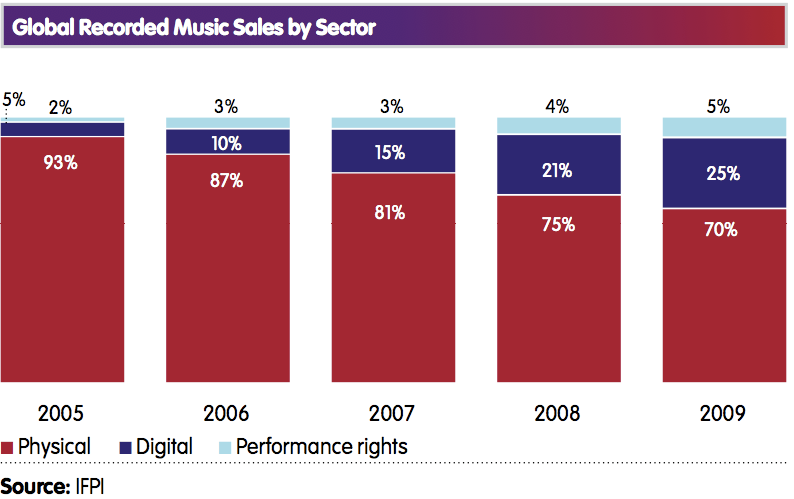 The IFPI numbers correspond with data released last summer that said Apple's iTunes had a 25 percent market share of all U.S. music downloads. That was well ahead of the number two overall music seller at the time, Walmart, which took 14 percent.
Last year's NPD totals also pegged Apple as the largest online music seller, taking a whopping 69 percent of the total market. The next closest seller was Amazon, with 8 percent of all paid downloads.
As for the potential of an iTunes subscription plan, it has been rumored for years, but never become a reality. Apple's purchase of streaming music service Lala for $85 million in late 2009 has led to speculation that iTunes content and purchases could be moved to the cloud, allowing users to access their content from a range of devices or via a Web browser without running the iTunes desktop client.