Road to Microsoft Office 2011 for Mac: A New Hope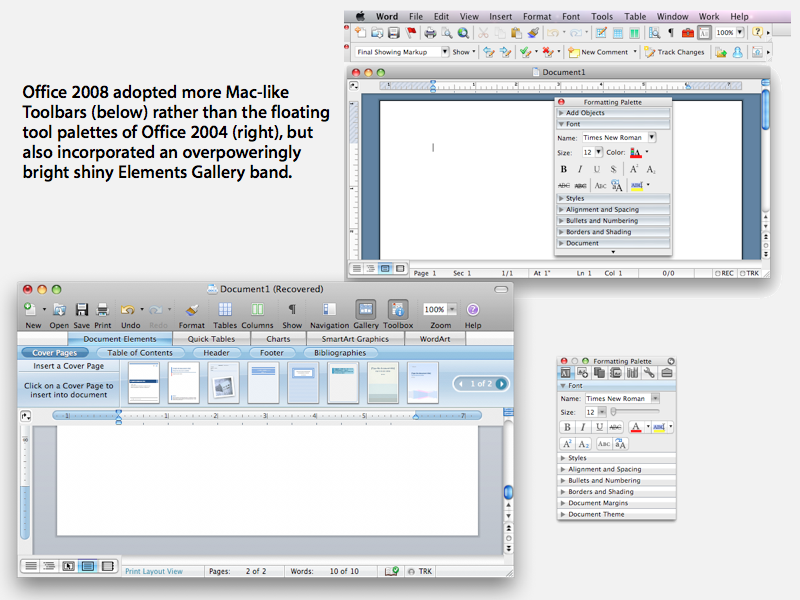 It's been just over two years since Microsoft released Office 2008 for Mac. Now the company is preparing to launch its 2011 edition in significantly less time than it took to update Office 2004, this time delivering an application interface sporting a sharper and more professional look. Here's an early introductory look at what's coming.
Setting the stage for Office 2011
Microsoft's last release of Office 2008 for Mac spent four years in gestation before the suite was finally birthed as a Universal Binary, nearly a year and a half after Apple began shipping its first Intel Macs. It also dropped support for Visual Basic for Applications, an important feature many companies use to automate their document workflow. Office for Mac also lacks Project, Access, and other apps from the Windows version of the suite.
Even so, Microsoft's release was very successful. The company said the release was "selling faster than any previous version of Office for Mac in the past 19 years," a fact that was likely related to its sharply lower pricing and much more liberal "Home and Student Edition" licensing ($149, compared to the $400 Standard Edition sold to businesses).
When Office 2008 arrived, it strained to bridge the awkward gap between being a suite of unique Mac apps that were custom tailored to the platform and its creative users, and being functionally equivalent to the Windows suite, with close adherence to how it looked and worked.
It appeared Microsoft's Mac Business Unit chose to lean in favor of being Mac-like, but rather than delivering tools that looked and worked similar to Mac OS X apps like Apple's own iWork, Office 2008 invented its own idea of what a Mac-like interface was, with lots of day glow, translucent plastic trim salvaged from the late 90s iMacs and other non-standard ornamentation.
This tended to result in Office 2008 looking like a clownish new low in Microsoft's Office efforts on the Mac, after ten years of development since the 1997 deal between Apple and Microsoft, and more than 20 years after Word first premiered on the Macintosh in 1985. Later this year, Microsoft will be refining its Mac productivity suite in a new direction that looks to be a lot more professional and sophisticated.
Microsoft's Fluent UI vs Apple's Toolbars
While the Mac BU delivered Office 2008, the rest of Microsoft was busy taking Office (and Windows) in its own unique direction, following the "Fluent" user interface concept developed around the Ribbon. This replaced the toolbar and Windows' menu bar (which is integrated into application windows rather than being separate as it is on the Mac OS) with a dynamic strip of controls that packed together a dense amount of user interface buttons and options.
Meanwhile, Apple has established a standard Toolbar user interface for apps in Mac OS X, which allows users to customize the buttons they use, present them with or without text labels, and depict icons in large or small sizes. The company has also standardized its own apps to make heavy use of Inspector palettes. Within iWork, Apple has also introduced the Format Bar as a way to optionally present a contextually relevant strip of controls under the standard Toolbar.
The Mac BU, facing the difficult task of pleasing both sides of very different isles, delivered Office 2008 with both a semi-standard version of the Mac OS X style Toolbar and a strip of Ribbon-like band it called the "Element Gallery." The toolbars used in Office 2008 don't offer to resize icons, you can't just display text labels, and they aren't configured using drag and drop sheets like standard Mac Toolbars. Instead, the Office Toolbar is really a replica of the standard Office toolbar, which allows you to select between and customize the rows and rows of familiar icons.
Office 2011's cleaner new look
In the existing Beta 2 of Office 2011, Microsoft has dialed down the Day-Glo frivolity of the clunky feeling Element Gallery and turned it into an actual Ribbon with a much more solid and refined feel. Despite being busy and packed with controls, the new Ribbon looks a lot more professionally subdued, although it feels like it's lacking enough visual contrast to make its elements clearly pop out as distinct options.
The Ribbon has a series of tabs that enable it to pack a huge amount of controls into the inch of space below the more-compact-than-ever Toolbar (which remains an Office Toolbar rather than a standard Mac OS X one.) It's easy to dismiss the Ribbon using a single Toolbar button, providing a large functional space for your content.
In place of a more Mac-like Inspector, Office 2011 provides a toned down Toolbox panel, which serves as a floating window that presents tabs for Styles; bibliographic Citations; Reference Tools including a dictionary, thesaurus and language translation tools; and a Compatibility Checker for reviewing potential problems that might affect interoperability with Office users running other versions of the suite.
Controls that were formerly in the Formatting Palette of Office 2004 were partly moved to the Elements Gallery of Office 2008, but are now completely removed from the Toolbox and will now be part of the Ribbon in Office 2011.
Given that it would be impossible for the Mac BU to completely please either its Mac-centric users or its users with needs for cross platform familiarity between the Mac and Windows versions, the new Office 2011 looks like a well designed compromise that works to look clean, crisp and professional on the Mac while also retaining much of the direction of the latest Windows version.
There's still some odd facets carried forward from Office 2008, such as the candy colored translucent controls around objects or the transparent grey HUD look of some palettes, but the new edition appears to solidify the interface and behave more predictably and maturely. The existing version of Office feels like a beta version of a conceptual effort to create a high energy, glossy interface that really just looks a decade old. This new edition feels more clean and modern, like what one might expect from a serious corporation selling the world's leading productivity suite.
Upcoming segments in this series will examine what's new in each of the individual apps within the new Office 2011 suite.