Internet Explorer web browser use drops below 60%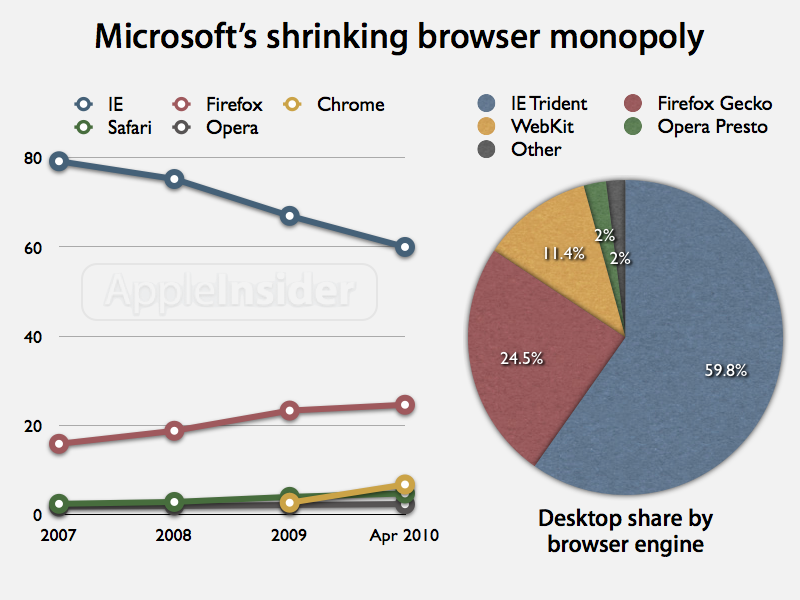 AppleInsider is supported by its audience and may earn commission as an Amazon Associate and affiliate partner on qualifying purchases. These affiliate partnerships do not influence our editorial content.
Microsoft's share of web browser use has dropped to an historic low below 60% for the first time since Internet Explorer 4 passed the beleaguered Netscape back in 1999.
According to statistics published by Net Applications, Internet Explorer dipped down to a 59.95% share of its observed traffic, falling from around 80% share in less than two and half years.
Of the 20 lost percentage points, nearly nine were earned by Firefox, which now has nearly 25% share. Another nine were taken by WebKit browsers: two and a half were eaten up by Apple's Safari (to reach 4.72% share), while Google's Chrome expanded to take 6.7% (from zero prior to 2009). Opera gained nearly a percentage point in the same period (to reach 2.3%).
Statistics published by StatCounter were even less flattering for Microsoft's Internet Explorer, which was ranked at a 56.57% share, with Firefox closing in with 31.29%, followed by 5.35% for Chrome, 3.63% for Safari and 2.25% for Opera.
Firefox's Gecko, Opera's Presto, and Safari/Chrome's WebKit engines are all powering the shift away from Internet Explorer and its Trident rendering system, which does not support the latest web standards nor push the envelope in JavaScript rendering speeds as Safari, Chrome, and Firefox have. The next release of Internet Explorer promises to add support for key features of HTML5, and hopes to slow the defection of its user base.
None of the web browser clients are commercial products, so the vendors involved all have alternative motivations for developing them. Microsoft created Internet Explorer to prevent Netscape from offering an open alternative to Windows in developing cross platform apps.
Once Netscape was crushed out of the market, its developers decided to form Mozilla, an open source project intended to continue its development in order to provide an alternative browser not controlled by Microsoft. Mozilla's Firefox rapidly outpaced the development of Internet Explorer, which Microsoft had slowed to a crawl once reaching a monopoly position in browsers around 2000.
In 2002, Apple created a fork of KHTML to deliver WebCore, a fast, clean alternative to Netscape's legacy of Firefox. WebCore served as the foundation for the new Safari browser Apple released in 2003, and was made available as open source. This served both the goal of Apple having its own top tier Mac browser (rather than relying upon Microsoft or an independent open source project to deliver one) as well as the introduction of a high quality, free rendering engine that could help promote the use of open web standards.
In 2005, Apple subsequently announced it would be releasing its entire WebKit browser engine as open source, in addition to the WebCore rendering foundation derived from KHTML. Nokia immediately released a WebKit browser for its S60 smartphone platform. In 2007, Apple released a version of Safari for Windows and a mobile version for iPhone and iPod touch.
In 2008, Google released its Chrome browser using WebKit. Google's Android, Palm's Pre and RIM's upcoming BlackBerry OS 6 all feature WebKit browsers, making Apple's browser strategy wildly effective in promoting open web standards among mobile devices, using open source.