iPhone OS 4 betas show new iPad-style spelling features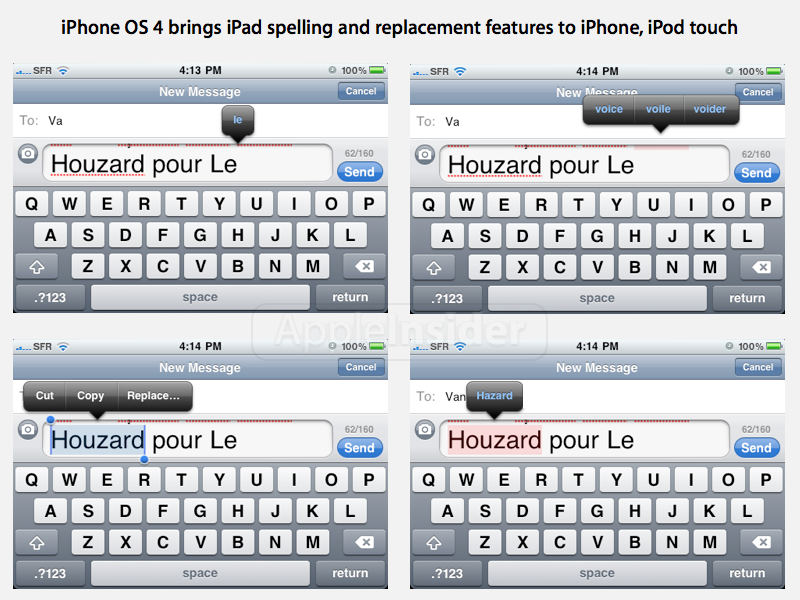 AppleInsider may earn an affiliate commission on purchases made through links on our site.
Developers familiar with the iPhone 4.0 beta report that the new firmware brings spellcheck and suggested word replacement features from the iPad to the iPhone and iPod touch.
The new features first premiered on the iPhone OS 3.2 used exclusively by iPad, but when iPhone OS 4 hits this summer, it will extend the new features across Apple's range of mobile devices.
The spelling system extends the mechanism Apple created for copy and paste operations, enabling users to touch a misspelled word to select it, and then touch "Replace…" as an alternative to cut or copy operations.
The system then offers replacement word suggestions in blue type, allowing for one touch correction. Misspelled text is underlined in red, a convention from Mac OS X's system wide spell check that was originally taken from Microsoft Word.
Apple has also announced that iPhone OS 4 will bring iPad's Bluetooth keyboard support to the iPhone and iPod touch. For more information on the text features that debuted with iPad, see AppleInsider's In-depth review: iPad and iPhone OS 3.2.