VMWare releases Fusion 3.1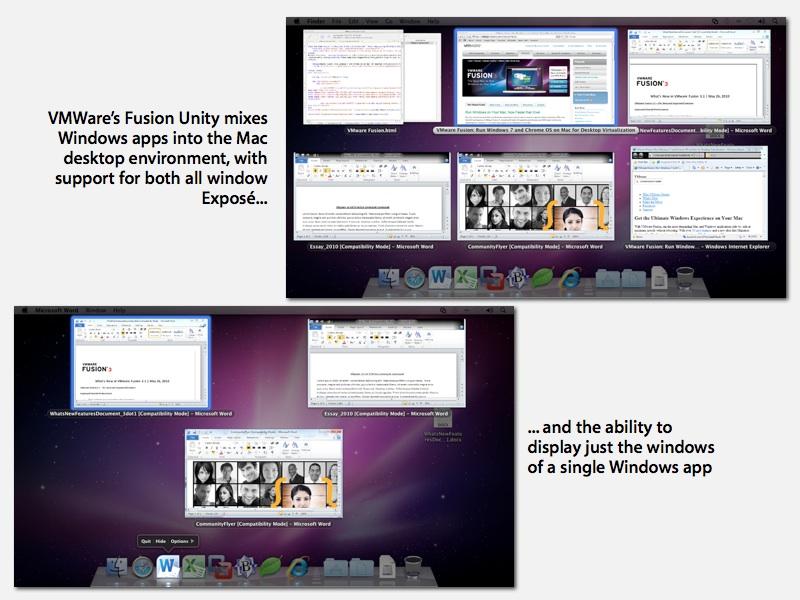 AppleInsider is supported by its audience and may earn commission as an Amazon Associate and affiliate partner on qualifying purchases. These affiliate partnerships do not influence our editorial content.
VMWare's Fusion has been updated to version 3.1, adding feature and performance improvements to the virtualization solution for running the Microsoft Windows operating system within Mac OS X.
VMWare's Fusion 3.1 virtualization software is emerging from beta as a free upgrade to existing 3.0 users. Registered owners can download the update by selecting "Check for Updates" in the VMware Fusion menu of version 3.0. Earlier versions can be upgraded for $40 while the full version costs $80.
The new update brings "end-to-end" speed improvements in application performance 35% greater than the previous 3.0 version, accelerating disk operations, scrolling, app launching and resuming from virtual machine suspend.
Fusion 3.1 also supports OpenGL 2.1 when running Windows Vista or 7, and boasts nearly 4x speed boost in 2D graphics and up to a five-fold increase in 3D graphics performance. Autodesk supports the software for use with the currently Windows-only AutoCAD 2011.
A new EasyConnect feature improves virtual USB device assignment, while the update also enhances Unity, VMWare's integrated desktop mode that mixes Windows apps into the Mac OS X desktop. Unity offers an exclusive new feature that "supports Mac OS X Snow Leopard's Dock Exposé for individual Windows applications so Windows apps work even more like Mac apps."
VMWare also calls Fusion 3.1 "the fastest, easiest, and least expensive way to migrate your entire PC to a Mac. VMware Fusion 3.1 includes all of the software you need to make the switch – without the 25% added cost of a special one-time use cable. VMware Fusion's highly optimized PC Migration Assistant is up to 4x faster than other Switch to Mac offerings."
The new Fusion 3.1 also supports larger virtual machines, with support for eight-way Symmetric Multiprocessing on machines with multiple cores, and larger virtual disks up to 2TB. The new update also adds support for new versions of Red Hat Enterprise Linux 5.4, Novell SUSE Linux 11 SP1, Ubuntu 8.0.4.4 and Ubuntu 10.04.