Apple rumored to debut Safari 5 with Reader, Bing at WWDC [u]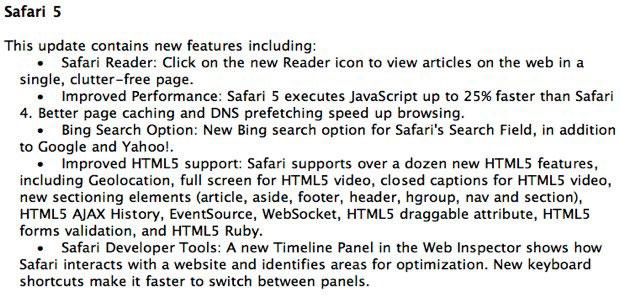 Newly revealed documents suggest that Apple could launch Safari 5 with a new "Reader" feature, the addition of Bing search support and expanded HTML5 support. In addition, evidence of the final release of Mac OS X 10.6.4 has also surfaced [Update: Xcode 4, too].
French website MacGeneration reported Saturday images of new English-language support documents alleged to be from Apple, containing a list of features in Safari 5. It suggests the software update will include 25 percent faster JavaScript performance than Safari 4 and DNS prefetching to speed up browsing.
The document also mentions a new feature, Safari Reader, which adds a Reader icon to the browser and allows users to view articles "in a single, clutter-free page."
Expanded HTML5 support will reportedly add over a dozen new features, including Geolocation, full screen and closed captions for HTML5 video, and more. The update will also allegedly feature new tools that aim to help developers, including a Timeline Panel in the Web Inspector, identifying areas for optimization.
Other features mentioned in the documents include smarter address fields, hardware acceleration for Safari on Windows, search history with date, a "Private Browsing" icon, and improved page caching.
Safari 4 was released just less than a year ago, on June 8, 2009. Apple dubbed it the "world's fastest browser," saying it ran JavaScript 4.5 times faster than its predecessor. It is available for both Mac and Windows.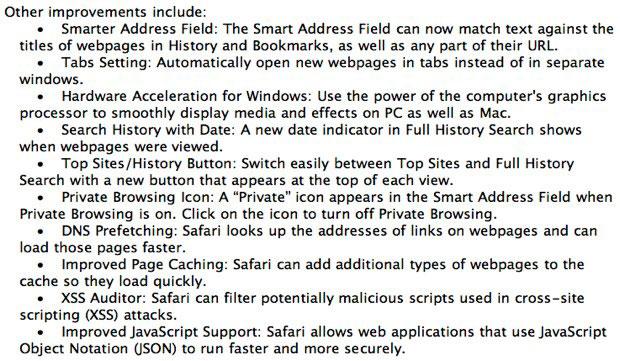 MacGeneration also reported Saturday that Mac OS X 10.6.4 will see release from Apple this week. The site also had a screenshot of a list of features from an English-language document. It features the same list of improvements that have been seen in the beta builds of the Snow Leopard operating system seeded by Apple to developers.
The update will allegedly resolve an issue that causes the keyboard or trackpad to become unresponsive, fix a problem that prevented Adobe Creative Suite 3 applications from opening, and addresses a playback issue in DVD Player when using Good Quality deinterlacing, among other fixes.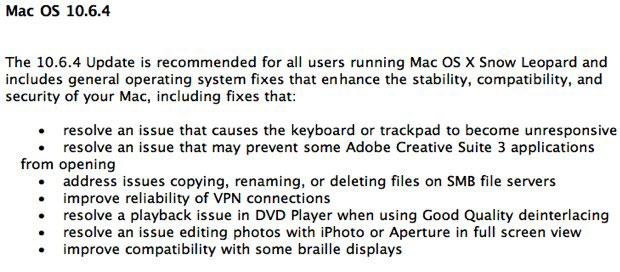 Update: Finally, MacRumors reported Saturday that it has heard that new version of Xcode, version 4, will be shown off this week. Xcode is the suite of tools used to develop software for Mac OS X.