Apple introduces new iMovie app for editing HD video on iPhone 4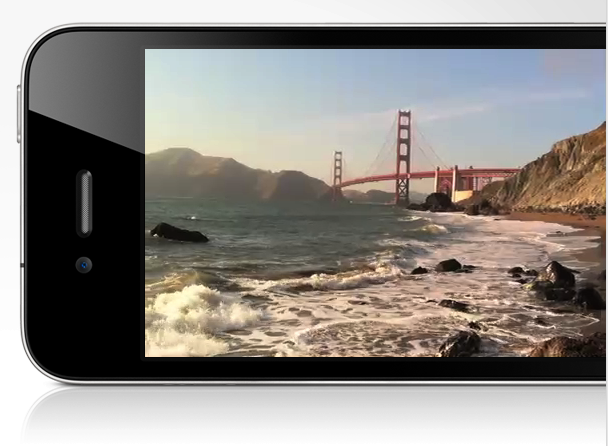 AppleInsider may earn an affiliate commission on purchases made through links on our site.
To take advantage of the new 720p-capable HD video camera in iPhone 4 will be an all-new, $4.99 mobile version of iMovie for editing videos, Apple announced Monday.
Final Cut Pro developer Randy Ubillos demonstrated how iMovie on the iPhone works like it does on the desktop. He said it is "one of the most exciting apps" he's ever worked on.
Using the multitouch display, users can pinch to trim clips in the timeline, and even record video directly into the timeline using the HD camera. The geolocation of the device can be included, and music from iTunes or supplied theme music can be added to clips on the fly.
The system takes advantage of the 5 megapixel lens in iPhone 4, which is capable of recording 720p video at 30 frames per second.
The new iMovie app for iPhone allows users to combine movie clips, add dynamic transitions and themes and include photos and music. It will be available in the App Store for $4.99.
Apple has highlighted the following capabilities of the new high-definition camera in iPhone 4:
Edit video right on iPhone. No need to wait until you're back at your computer to edit video. You can perform basic editing right in the Camera app. Just drag to select start and end points on a filmstrip.
Turn your video clips into a finished movie. With iMovie on iPhone 4. You're on vacation, and you want to create a video postcard of everything you did that day and share it with your family. Just use the iMovie app — coming soon to the App Store for just $4.99. Built just for iPhone 4, iMovie lets you combine and edit video clips, polish your movies with dynamic themes and transitions, add music and photos, and share your finished movies with the world.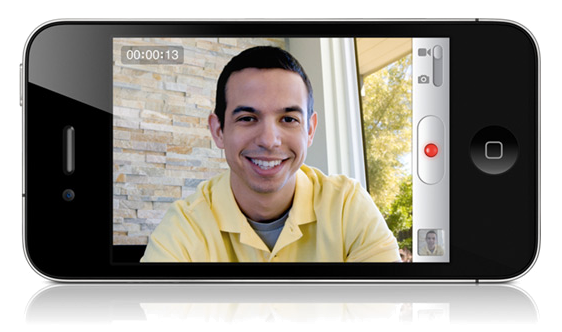 Tap to focus video. Say you're recording a scene with subjects in both the foreground and the background. How do you make sure the camera focuses where you want? Just tap that part of the image on the iPhone 4 display. The camera immediately focuses on it and adjusts exposure to match the lighting. When you want to focus on another part of the scene, just tap again.
Make a video self-portrait.
In addition to the high-definition camera on the back, iPhone 4 has a VGA-quality camera on the front, above the display, that lets you see yourself while you record. So it's perfect for taking a video self-portrait — no more guessing if you're in the frame or accidentally cropping yourself out altogether.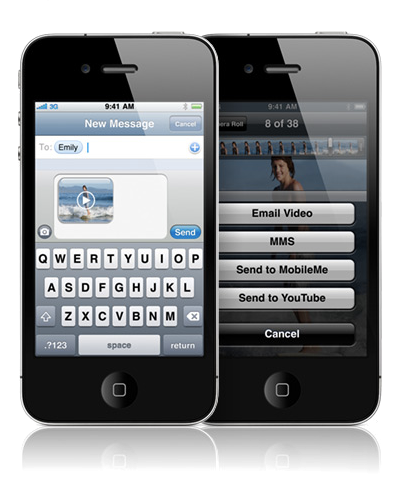 Share video anywhere. Say you're in the middle of a text message conversation when you see something video-worthy. Tap the camera icon in Messages to record on the fly and send it to your buddy via MMS. Or select some video from the Camera Roll and attach it to a new email message, ready to send. Publishing to your MobileMe gallery or to YouTube is also just a tap away. And you can easily sync all the video you shoot on iPhone 4 back to your Mac or PC.