iPhone 4 now available for preorder from Apple, worldwide carriers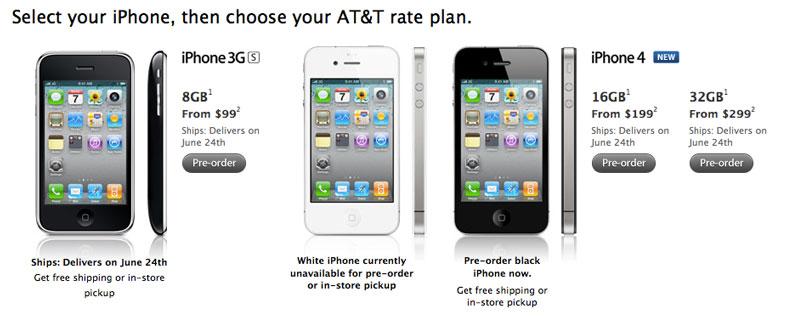 AppleInsider is supported by its audience and may earn commission as an Amazon Associate and affiliate partner on qualifying purchases. These affiliate partnerships do not influence our editorial content.
Apple and its various wireless partners around the world prepared to launch iPhone 4 on June 24 began taking preorders for the hardware on Tuesday, though the new white model is unavailable.
As was announced at the Worldwide Developers Conference last week, customers can buy a 16GB iPhone 4 with a two-year contract with AT&T in the U.S. for $199, while the 32GB model costs $299.
Last year's iPhone 3GS, available in an 8GB capacity, is also available for $99 with contract, and all three models deliver on the launch date of June 24. Preorders are limited to two per customer.
On the Apple online store, the white iPhone 4 is not available for preorder. In addition, the model with a white front and back cannot be secured for in-store pickup. On AT&T's site, the white iPhone 4 is listed as "coming soon."
Limited availability of the white iPhone 4 was revealed on Monday, when an internal memo from AT&T suggested that supplies would be scarce at launch. That memo said that while AT&T stores will take reservations for the white iPhone 4, it will not become available until later this summer.
Both the black iPhone 4 and 8GB iPhone 3GS can be secured via free shipping, or with in-store pickup for the June 24 launch.
While the iPhone remains locked to Apple's exclusive carrier partner in the U.S., AT&T, some international customers have the option of an unlocked handset. An unlocked iPhone costs £499 for 16GB and £599 for 32GB in the U.K, and €629 for 16GB and €739 for 32GB in France. It is also available unlocked and SIM-free in Canada.
The new iPhone will debut next week in the U.S., France, Germany, the U.K. and Japan. Apple has announced that the iPhone 4 international launch will ramp up to 87 total countries by September, its fastest global deployment of a new handset.