iPhone 4 preorders rumored to involve another AT&T security breach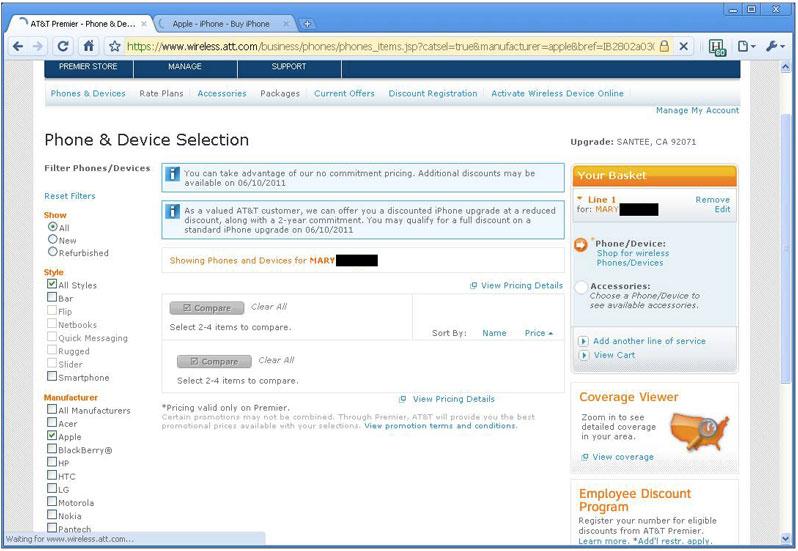 Just days after AT&T was hit with a security breach regarding e-mail addresses of iPad 3G owners, a new rumor suggests that U.S. iPhone 4 preorders may also have been the victim of an accidental information leak.
Citing an "AT&T insider," Gizmodo on Tuesday said that an allegedly faulty server software update may have caused the problems that users faced in attempting to preorder iPhone 4. Customers throughout the day were frustrated as online orders failed to confirm eligibility for existing AT&T customers.
Earlier Tuesday, a user had sent the website a screenshot that showed a user who logged in to their AT&T account, but it showed a different customer's name and information.
The tipster, who claimed to work at a third-party order processing facility for AT&T, reportedly said that a "major fraud update" implemented on the wireless carrier's systems over the weekend went wrong. Those issues, the person claimed, could have lead to security issues during the iPhone 4 preorder on Tuesday experienced by at least one customer.
"I can confirm that there was a major outage over the weekend that impacted all ordering systems and programs, and I can confirm that there were multiple systems being upgraded/updated, with some updates being related to fraud," the anonymous source told Gizmodo. "At this point, I can say that the system that AT&T uses to send automated orders to be processed is as of this very moment down completely. Our facility is unable to process any orders by phone or by automation."
The tipster suggested that people who have not yet upgraded might want to wait, "as it may be a doorway to a major privacy breach."
The rumor comes just days after the U.S. Federal Bureau of Investigation revealed it had begun a probe into a security breach that exposed the e-mail addresses of over 100,000 registered iPad owners.
AT&T last week acknowledged that a security flaw on its website made it possible for hackers to query the company's database and uncover the e-mail addresses of customers who had registered to use its mobile broadband service. At least 114,000 iPad 3G users' e-mail addresses were said to have been leaked.