Apple reveals iPhone 4 has 512MB RAM, doubling iPad - report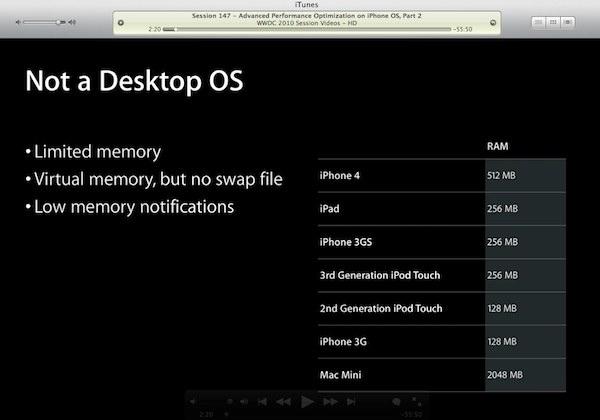 AppleInsider is supported by its audience and may earn commission as an Amazon Associate and affiliate partner on qualifying purchases. These affiliate partnerships do not influence our editorial content.
Apple officials quietly confirmed at last week's Worldwide Developers Conference that the forthcoming iPhone 4 has 512MB of RAM integrated into its custom A4 processor, according to a new report.
A couple of sites (1 2) reported Thursday that Apple confirmed the 512MB figure during one of the WWDC sessions held last week at San Francisco's Moscone Center. That's twice the RAM found in last year's iPhone 3GS, as well as twice the 256MB found in the just-released iPad with the same A4 processor.
For comparison, the original iPhone and the following year's iPhone 3G both had just 128MB of RAM.
The news that the latest A4 processor has 512MB of RAM directly contradicts photographic evidence of an iPhone 4 prototype disassembled in Vietnam. Solutions provider iFixit read the markings on that hardware, before iPhone 4 was formally announced, and found that the hardware had 256MB of RAM — the same amount of memory found inside the A4 processor on the iPad.
Apple's custom-built A4 processor was first released in the iPad running at a 1GHz clock speed. It is packaged just like previous iPhone processors, with three layers of circuitry that include the microprocessor in one package, and two memory modules in the other.
Apple declined to announce the RAM or the clock speed of the A4 found inside iPhone 4 when it introduced the handset at last week's WWDC keynote. Some have taken the fact that the speed was not revealed to mean that the processor is underclocked from its iPad counterpart, likely to achieve better battery life in the smaller form factor.
Thursday's news also confirms a report in May from DigiTimes that said the next-generation handset would have 512MB of RAM, citing Samsung as the memory provider.