Apple releases iBooks 1.1 with PDF support for iPhone, iPad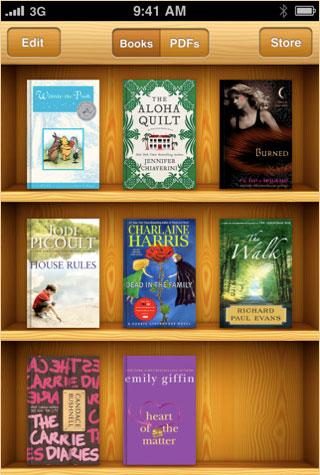 AppleInsider may earn an affiliate commission on purchases made through links on our site.
Soon after iOS 4 was released to iPhone and iPod touch users on Monday, Apple also made its iBooks application for reading and purchasing e-books available for device owners for free via the App Store.
Version 1.1 of iBooks makes the application available on any iPhone or iPod with iOS 4. The update also applies for iPad owners, and brings the ability to open and read PDF documents and add them to the virtual bookshelf.
Other additions to the new version of iBooks, according to Apple:
Take advantage of new ways to bookmark. In addition to highlighting a word or passage, youc an now also add notes or bookmark an entire page with the new page ribbon.
Keep your bookmarks, notes, and your current page wirelessly in sync between iPhone, iPad and iPod touch with the new automatic bookmark syncing feature.
See your book pages in a new font, called Georgia.
Read your books on white or sepia colored pages.
Choose left or fully justified text layout from Settings.
Read pages with greater ease by increasing to even larger font sizes.
Enjoy greater stability and better performance.
Apple first announced that iBooks would come to the iPhone and iPod touch at last week's iPhone 4 event. Previously, it was only available for the iPad.
The Cupertino, Calif., company also revealed that it had sold more than 5 million digital books in just over two months, giving Apple a 22 percent share of the e-book market.