Glass back of iPhone 4 review unit collects 'incredibly minor' scratches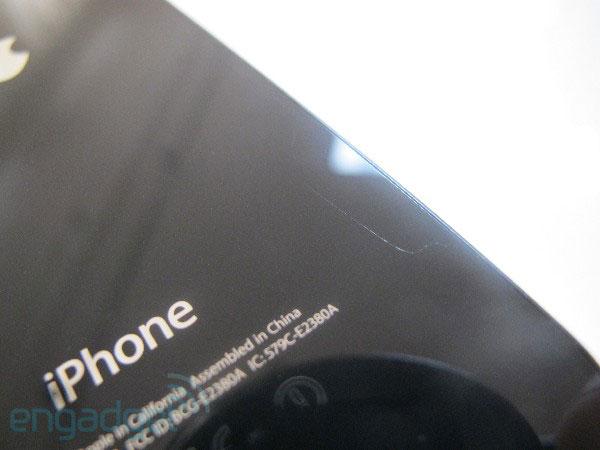 A review unit sent out by Apple has managed to collect "incredibly minor" scratches on its back made of hardened glass after just a few days of heavy use.
Engadget was given a review unit of the iPhone 4 prior to this week's public release. In its hands-on time with the device, the glass back panel managed to accumulate scratches, though the website dubbed them minor.
"It's what we'd call 'incredibly minor,' not visible at all dead on, but in bright light at an angle... well see for yourself (in) the photos," it said.
When Apple introduced the iPhone 4 earlier this month, the Cupertino, Calif., company touted that both the device's front and back panels are made of aluminosilicate glass, chemically strengthened to be 30 times harder than plastic, and "more scratch resistant and more durable than ever." The front and back glass are also said to include an oil-resistant coating that helps to keep it clean.
The first reviews of the handset noted its durability, as Walt Mossberg of The Wall Street Journal said "I dropped it several times from a few feet onto a hard surface with no problem, and it acquired no scratches in all my testing, even though I didn't use a case or coddle it."
Ed Baig of USA Today also wrote that an Apple executive dropped the phone in front of him, for him to see. "The phone was undamaged," he said.
In its teardown of the iPhone 4, solutions provider iFixit found that the front glass on Apple's latest handset is made of "Gorilla Glass." It made no mention of the back panel.
"The front glass panel of the iPhone is constructed of Corning Gorilla Glass, a chemically strengthened alkali-aluminosilicate thin sheet glass that is reported to be 20 times stiffer and 30 times harder than plastic," the company said in its teardown. "Gorilla Glass holds many advantages as the iPhone 4's front panel, including its high resistance to wear and increased strength from an ion-exchange chemical strengthening process."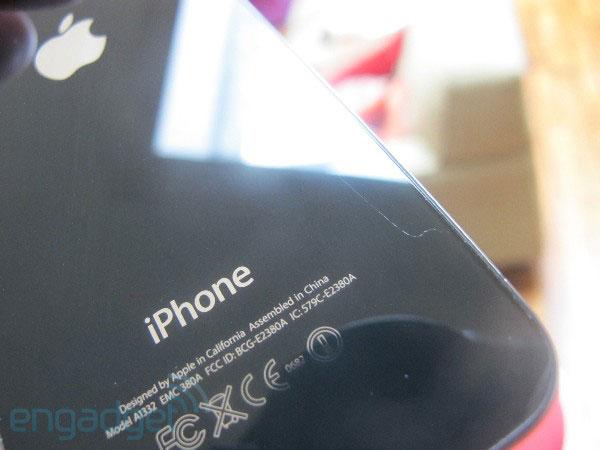 Apple will sell its first-ever set of iPhone protectors alongside the iPhone 4, dubbed Bumpers. They will be available in 6 colors for $29.99 apiece, but the accessories don't obscure the front or back of the handset, instead wrapping the handset's edges in a shock-absorbing, rubberized material.
Earlier this month, one website came into possession of an iPhone 4 with a cracked glass front panel, challenging Apple's own claims of the durability of the new hardware.