Hulu Plus $10-per-month service now available for iPhone, iPad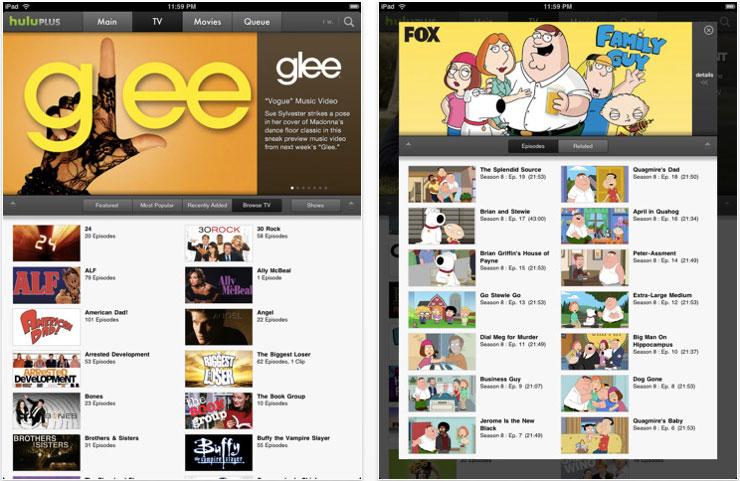 AppleInsider may earn an affiliate commission on purchases made through links on our site.
Hulu on Tuesday released a its long-rumored iOS application for the iPhone and iPad, but the free software requires a $9.99-per-month subscription to Hulu Plus, currently available as a "limited preview."
"Hulu Plus is not a replacement for Hulu.com," the company said on its official blog Tuesday. "Hulu Plus is a new, revolutionary ad-supported subscription product that is incremental and complementary to the existing Hulu service. For almost all of the current broadcast shows on our service, Hulu Plus offers the full season. Every single episode of the current season will be available, not just a handful of trailing episodes."
Subscribers have access to back seasons and full runs of "some of TV's greatest shows," including episodes of The X-Files, Arrested Development, Law and Order: SVU, Ally McBeal, Buffy the Vampire Slayer, Roswell, Grey's Anatomy and Desperate Housewives.
Users must go to hulu.com/plus and request an invite to the Hulu Plus service. The free software (iTunes link) is available for both iPhone and iPad, and allows users to watch over both Wi-Fi and 3G.
Features of the software, according to Hulu, include:
Watch every current season episode of top TV shows from ABC, Fox, and NBC like Family Guy, Modern Family, Glee, 30 Rock, Saturday Night Live, The Office, The Simpsons, Grey's Anatomy, and more.
Enjoy full series runs or back seasons of classic shows like The X-Files, Arrested Development, Buffy the Vampire Slayer, Desperate Housewives, Roswell, Miami Vice, Angel, Saturday Night Live, Law and Order: SVU, Ally McBeal, Xena, Quantum Leap, My So-Called Life, and more. Thousands of episodes from hundreds of titles.
Enjoy up to 720p HD resolution with multi bitrate support for an optimized viewing experience for your screen resolution and network connection speed.
Search and browse for shows and videos directly from your iPad, iPhone, and iPod Touch.
Resume play from where you left off on other Hulu Plus devices including your computer and select mobile phones, internet-connected TVs, and Blu-ray players.
Manage your queue directly from your iPad, iPhone, and iPod Touch.
Subscribers can also access a free application on certain Internet-connected Samsung TVs and Blu-ray players, and Hulu said that more avenues to watch Hulu Plus subscriptions are coming in the future.
"This is just the first step in our mission to bring you TV wherever you are," the company said. "We are already hard at work on porting Hulu Plus to other devices and platforms, with PlayStation 3 coming soon. But that's a story for another day."
Rumors of a pay-only service available for the iPad first surfaced in February. The Hulu Plus name was outed by The Los Angeles Times in May.
Streaming content came to the iPad at launch, with iOS applications from ABC and Netflix. The ABC player provides shows like "Desperate Housewives" for free, with ad support.
The ABC application and its lack of a subscription reportedly caused concern for Hulu. In April, it was reported that Hulu CEO Jason Kilar "desperately" tried to convince ABC not to release its iPad software.