Apple gives one business free bumpers for iPhone 4 reception issues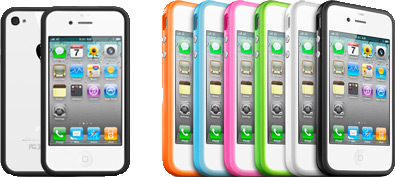 Though it has not given away protective cases to the masses to alleviate reception issues with the iPhone 4, Apple did attempt to appease one small New York business owner with five free $30 bumpers, AppleInsider has learned.
The business owner, who asked not to be named, said they are a longtime Apple customer that has supplied iPhones to their employees since the device was first released in 2007. Every year since, they have upgraded to Apple's latest handset.
But when they were among the first to receive their five iPhone 4s a day early last week, it was readily apparent something was wrong with the phones: Just touching the bottom left of the phone would cause a call to drop within 10 seconds.
"Literally, we live in an area where we get five bars," they said. "You can almost see a line-of-site cell tower. But if you literally just touch the black line (in the bottom left of the iPhone 4), you lose a call."
They soon contacted Apple to find out if they had a faulty batch of phones. At the time, the company's representatives were not yet aware of any issues with the device.
The business owner spoke with an entry Apple representative, and then they were transferred to an expert with Apple technical support. A representative even admitted that they, too, were experiencing reception issues when gripping their own, personal iPhone 4 on the left side.
An Apple employee last Thursday, June 24, requested that the business owner send videos of the issue so they could see what was happening. They even wanted to have all five phones brought in to a local retail store so the company could see it in person.
But by the end of launch day, a senior iPhone support representative informed them that all iPhone 4 hardware was experiencing the same problem. That Apple employee then offered free bumpers for their troubles.
Last week, Apple issued a formal statement in which the company said that using a case, such as Apple's $30 protective bumpers, can lessen the reception issue. The problem occurs when a user's bare skin bridges the two antennas found on the metal perimeter of the device.
Then, on Friday, Apple wrote an open letter to iPhone 4 users, in which the company repeated its stance that holding any phone will result in some lost reception. But it also said that the formula used to calculate bars of signal strength on the iPhone 4 is inaccurate, and will be corrected in the coming weeks with a free software fix.
One in-depth look at the iPhone this week found that cupping the iPhone 4 tightly can result in a loss of 24.6 dB of signal. The effect can be lessened with an exterior case, that prevents one's hand from acting as a conducting agent between the phone's antennas.
Some have even suggested that Apple may give away bumpers to address the issue, though one alleged internal AppleCare employee memo specifically stated that the company is not "appeasing customers with free bumpers." While that may be the official policy now, it was not last week, when Apple promised the small business owner in New York that they would receive some for free. That person has received their order confirmation, and the black-color cases currently have a wait of 5 to 7 days before they ship.
And despite their unhappiness with the reception on the iPhone 4, they said Apple's customer service was kind and helpful, and they plan to continue doing business with the Cupertino, Calif., company.
"Apple is a great company," they said. "We've always liked Apple."