Verizon mocks Apple's iPhone 4 antenna issue with full-page NYT ad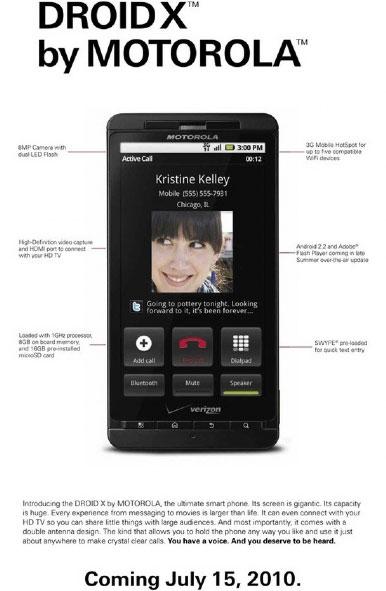 To promote the forthcoming launch of the Droid X handset, Verizon this week took out a full-page ad in The New York Times in which it mocked widely reported reception issues with the iPhone 4.
As first noted by Macworld, the ad touts a number of features found with the Droid X, including an 8 megapixel camera with dual-LED flash, 3G Mobile HotSpot for sharing Internet connectivity with up to five Wi-Fi devices, and an HDMI output. The advertisement also makes note of reception with the device.
"Most importantly, it comes with a double antenna design," the advertisement reads. "The kind that allows you to hold the phone any way you like and use it just about anywhere to make crystal clear calls. You have a voice. And you deserve to be heard."
Of course, the advertisement is referring to recent widespread reports that the iPhone 4 can lose signal when held in the left hand. Users can cause their handset to experience a reduction in reception when using their palm to cover a seam that separates the device's two perimeter radio antennas.
Apple said last week that the software in the iPhone 4 calculates bars of signal strength incorrectly, and the problem will be addressed in the coming weeks through a free update. As for the hardware, the company has said that all handsets experience some signal loss when held in the hand.
Verizon had to correct a previous advertisement that incorrectly claimed the Droid X sports a 720p high definition screen. The actual resolution of the Droid X is 854 by 480 pixels, which is the same resolution as the original Motorola Droid released last November. For comparison, Apple's newly released iPhone 4 has a 960-by-640 pixel resolution display.
The attack on Apple is similar taken to the approach with the original Droid. Last year's ad campaign also directly targeted Apple, lampooning its commercial style with the tagline "iDon't." The TV spot, which teased the then-impending launch of the Droid, attacked the iPhone's lack of a physical keyboard, inability to multitask with third-party applications, and absence of a camera flash. The latter two issues were addressed with this year's iOS 4 software update.