iPhone gets 3G video call features via Fring, poorly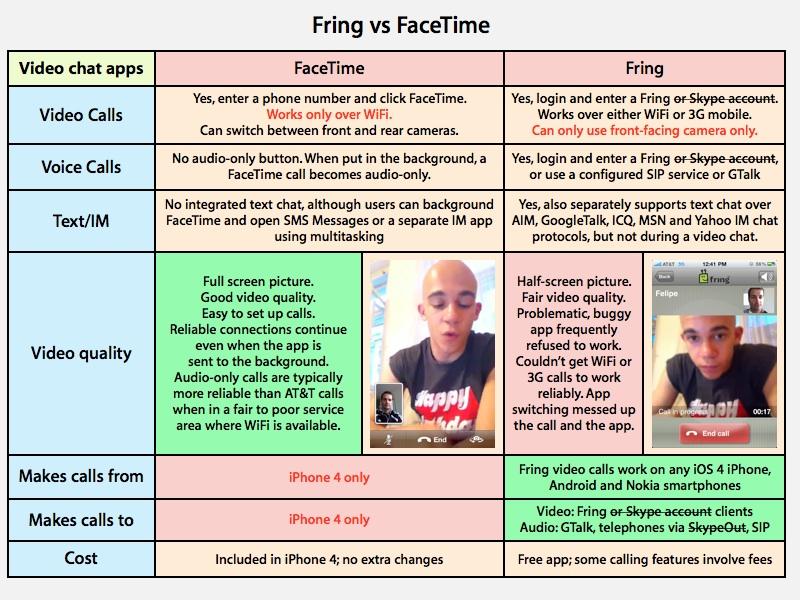 AppleInsider is supported by its audience and may earn commission as an Amazon Associate and affiliate partner on qualifying purchases. These affiliate partnerships do not influence our editorial content.
A new update to the free Fring app brings the potential of 3G video calls to all iPhone users. It also enables video calls to desktop Skype users as well as other Nokia and Android smartphone users who are also using Fring. Unfortunately, it doesn't work very well yet.
Apple's new FaceTime video calling feature was widely criticized for initially only working over WiFi and on iPhone 4. However, Apple's new video calling feature works very well: it delivers a high quality, full screen picture, enables use of the phone's rear camera, and makes setting up a new call easy.
Enter Fring, a free download from the iTunes App Store, which has updated its existing multiple-protocol VoIP and IM features to now support two-way video calls from any iPhone model running iOS 4, ostensibly over either WiFi or mobile 3G. Fring (along with Qik) is the same third party app that powers video calls on the Android-based HTC EVO 4G, Sprint's flagship smartphone.
The Fring app (I tested version 3.2.0.5) supports video calls with accounts both on its own VoIP/video calling network and Skype. After you install the app, you can create a new account rather painlessly and immediately begin connecting to other users by their account name. The problem with Fring is that, while it promises to work virtually anywhere and with a far wider array of clients, its video quality and presentation are rather poor even with a WiFi connection.
Unlike FaceTime, Fring ignores the rear camera on iPhone 4, making it more difficult to show your caller a subject. Video calls can quickly get tedious and leave you feeling self conscious, so Fring's lack support for the "show and tell" camera on the back is a pretty severe feature omission. Because few other Android phones support a front facing camera, it's not obvious how likely it is for Fring to add support for dual camera operation in the future. But that's really the least of Fring's disappointing problems.
Fring's video call quality is also greatly lacking, as it uses less sophisticated video compression. While I was fully able to quickly initiate FaceTime calls with a friend in Prague and maintain high quality video chats for an extended period of time, attempts to initiate a video call with the same person via Fring failed repeatedly under identical circumstances.
The momentary and fleeting video call connections under Fring were marred by blocky video and no audio at all. I was also unable to start an audio-only chat, although text chat did work.
Even if Fring could maintain a video call, its half-sized presentation of the remote caller is a lot less involving that FaceTime's full screen picture (with presents a floating inset showing you your own picture). Fring video and audio call tests we attempted over 3G failed completely.
The overall experience of Fring feels unfinished and a bit haphazard aesthetically, even outside of its iffy new video calling features. Hopefully, Fring's developer will be able to optimize the app to connect and function better, as allowing iPhone users to connect via video chat over 3G is a welcome feature even if the picture quality ultimately isn't very good.
Reports from users testing Fring on the EVO and other Android phones don't hold out lots of hope however. Even with a fast WiFi connection, PC Mag reported video quality as being "unimpressive," adding, "graphic artifacts showed up often and audio was usually out of sync," and repeating, "overall, video calls on Fring for Android are an unimpressive experience so far."
Fring seems to work best when placing calls between a desktop PC and a smartphone, something Apple currently doesn't support at all with FaceTime. The friend I called had performed some additional testing with desktop Skype clients, which reportedly worked better but still delivered poor video quality, even over WiFi.
I tried to test calls to a Skype client, but the Fring app oddly failed to present the icon for configuring a Skype account in its add-ons section. I deleted and reinstalled the app, when then refused to let me login using my existing password, and refused to let me create a new account. Overall, the entire Fring experience currently seems too buggy to be worth the bother of trying.
Until Fring gets a functional update, FaceTime users are limited to video chats only with other iPhone 4 users and only over WiFi. While Apple's technology is tightly limited, at least it works. Another option may come from Skype, which has expressed interest in supporting video calling on the new iPhone 4, but has not yet released any details on when that can be expected.
It's also rumored that Apple will add FaceTime and camera support to iPod touch 4 this Fall, and it's expected that the desktop iChat AV client for Macs will gain support for making calls with mobile FaceTime users. And of course, Apple has promised to publish the FaceTime specification as an open portfolio of protocols that any manufacturer can implement on their devices. Until then, high quality mobile video chats are limited to iPhone 4 users in the proximity of a WiFi hotspot.