Apple Retail tells employees something big is on the way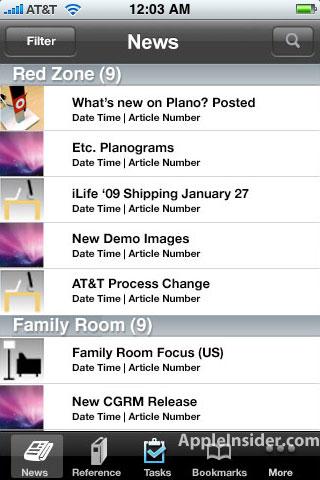 Apple is drumming up excitement amongst its retail employees, hinting this week that something revolutionary will soon be introduced within its international chain of brick-and-mortar shops.
The news was shared with employees via an internal news bulletin, according to people familiar with the matter. However, details were scarce outside of text that teased the unknown product or service would be innovative enough to make a 'big' impact.
According to those same people, the internal article text was supplemented by a collection of video clips that featured Apple Retail employees reciting phrases such as "It's coming!," and "It's going to be big!"
Certain retail staffers who have access to the Apple's Retail News Network and associated iPhone application (depicted below) are sometimes privy to advanced warning on upcoming changes to the way the company operates its retail segment. In most cases, those changes are specific to the retail experience rather than a new consumer product Apple plans to introduce.
Gary Allen, who has spent over a decade tracking the ins and outs of Apple's retail business through his ifoAppleStore blog, is amongst the most knowledgable 'outsiders' who follow the company. Allen notes the new is most likely tied to a "retail only" matter that will further enable employees to enhance the shopping experience of customers that grace the company's stores.
Allen also referenced an "on-going push for mobile retailing" that's currently underway at Apple. Last week, AppleInsider reported on a patent application that laid out the company's aspirations to further revolutionize the segment. The 83-page document covered the use of mobile kiosks, near-field communications (NFC), and a simple barcode scanning in conjunction with an iPhone App titled "Products +" to help customers obtain benefits associated with products or services they own. Â Â
For example, the technology could allow customers to register a product it with its manufacturer, check warranty information, obtain serial numbers and specifications, download user manuals, search for recommended peripherals, view setup videos, be apprised of potential product recalls, and access "a troubleshooting information wizard".
The Products + app would also be capable of storing and managing such information for all the products and services that a customer owns, while also allowing them to access other benefits such as digital content and product discounts.
Outside of Apple retail stores, the technology could combine to provide users with nutritional information on the meal they ordered at a restaurant, a way to purchase music playing in their environment, view extensive tutorials on products available at retail stores, or view trailers for DVDs available on shelves — all via wireless NFC and barcode scanning.