Apple acquires online mapping company Poly9 - report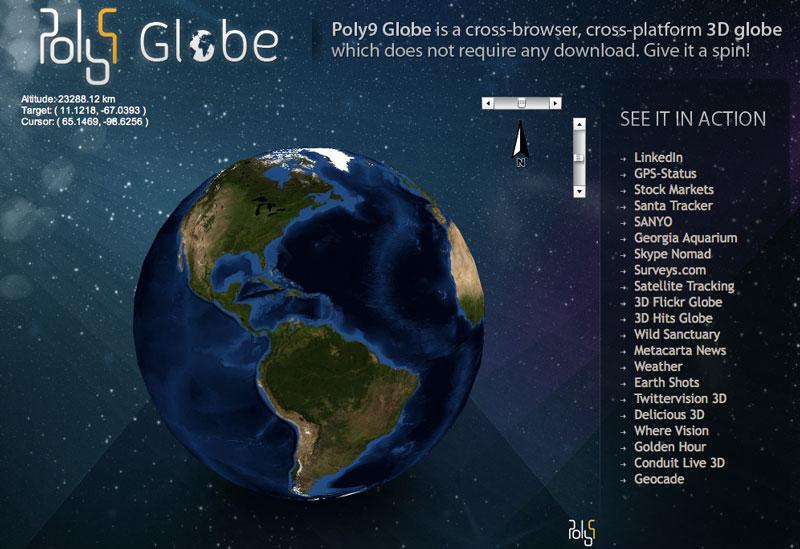 Apple has purchased a Web-based mapping company from Quebec, Canada, that creates interactive 3D software for use in a browser, according to a new report.
French-Canadian news site cyberpresse.ca reported Wednesday (via Google Translate) that Poly9 has been purchased by Apple, and a majority of the company's employees were moved to California. Poly9's official website is no longer available.
Among its products is Poly9 Globe, described as a "cross-browser, cross-platform 3D globe which does not require any download." The interactive software allows users to spin a three-dimensional rendering of the Earth, while providing real-time statistics on the user's virtual location, including altitude.
The total application, which includes high-resolution imagery for U.S. metropolitan areas, is just 303kb. It is now listed as discontinued on the official website, though the interactive demo remains. It can also be seen in action on a number of other websites, including Skype and Surveys.com.
The report claims that Poly9 was purchased "recently" by Apple, though official confirmation has not been given. It was said that the Cupertino, Calif., company asked Poly9 employees to not discuss the matter.
Poly9 still has an office in Quebec, but the report said that it was closed a few weeks ago. The Canadian company has worked with numerous clients in the past, including Apple, as well as Microsoft, Yahoo, MSNBC and NORAD.
If true, the purchase of Poly9 would be the second mapping related acquisition for Apple. Last year, it was revealed that the company had purchased Placebase, a Google Maps competitor.
Some have speculated that the acquisition of Placebase, along with the growing rivalry with search giant Google, is a sign that Apple plans to create its own mapping software for use on mobile devices like the iPhone and iPad. Currently, Apple partners with Google for its Maps application.
Evidence that Apple could pursue its own Maps application came last November, when a company job listing sought to hire someone to help take the iPhone's Maps application "to the next level." It said that the company intended to "rethink how users use Maps and change the way people find things. We want to do this in a seamless, highly interactive and enjoyable way. We've only just started."