Report: Apple's iPad to copy iPhone in eating up lion's share of profits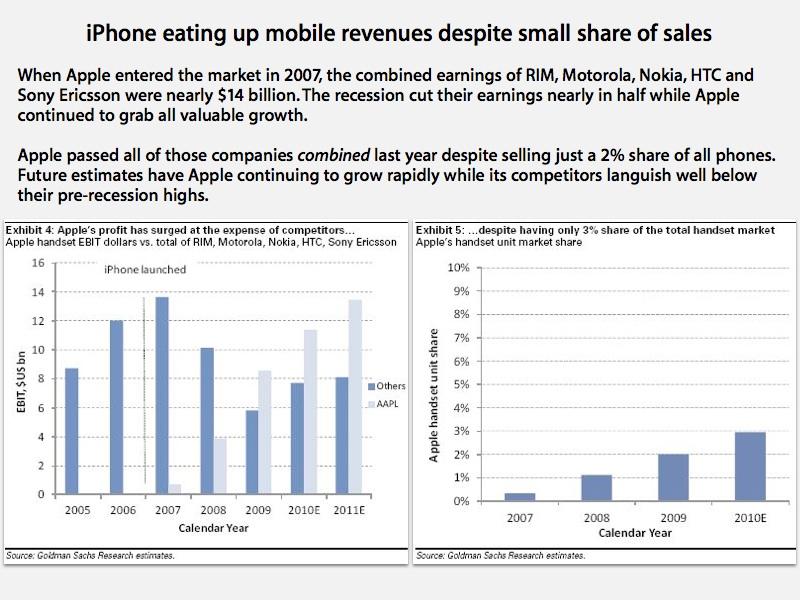 Financial analysts at Goldman Sachs report in graphic detail that Apple has inhaled the bulk of profits of the global mobile phone business with iPhone, and now appears poised to do the same in tablets with the iPad.
Despite selling a small 3% minority of the world's mobile phones, Apple has surpassed the earnings of RIM, Motorola, Nokia, HTC and Sony Ericsson combined, and is estimated to widen its lead in the future, according to Goldman Sachs research cited by the Financial Times (presented below).
The details of Apple's rapid and furious assault on mobile phone competitors were presented as the setting of what Apple is now doing with the iPad, which has wildly succeeded in a market that nobody has been able to do well in before.
Sharing the same App Store as iPhone and iPod touch, iPad offers a strong market for software that attracts consumers while also creating a vibrant market for developers, the report notes. That's something no other smartphone platform has done well, not even Google's Android Market, where there are now tens of thousands of apps but where most apps are freeware, there's no real oversight governing quality, malware or production values, and there's not even a paid software business model outside of a few countries. Even platform advocates note that Android versions of smartphone apps lag behind the features and updates of iPhone titles, and that isn't likely to change as long as the market feels like a hobbyist experiment rather than a real store like iTunes.
The research also highlighted the "instant on" functionality and all day battery life of iPad, features that can make it more attractive to businesses than notebooks. "This is in sharp contrast to existing PCs," Goldman wrote, "which typically take 15-60 seconds to resume from a standby or sleep state."
When the firm asked 90 hedge fund chief technology officers about their plans to replace notebooks with tablets, nearly a third replied that they expected to ditch more than 25% of their notebooks over the next two years and adopt tablets, while more than two thirds reported being sure about plans to transition at least some number of notebooks.
The firm wrote that Apple appeared to be the primary company benefitting from the interest in tablets, given its strong leadership position. Other companies that were likely to cash in on the vibrant interest in tablets include mobile processor designer ARM and other iPad component vendors, including Samsung, Infineon, Broadcom, and Linear.
The research note also identified a series of companies aversely affected by the boom in tablets currently being eaten up by Apple's iPad. First on the list is Microsoft, "given the impact of lost Windows sales and its lack of a competitive tablet response." Intel and AMD are also cited as losing out as ARM-based mobile devices replace conventional x86 PC-based notebooks and netbooks. Additionally, hard disk drive makers were expected to lose out as tablets like iPad shift toward solid state storage.
Other losers in the tablet market included RAM maker Micron (as tablets require less memory), netbook manufactures like Acer and ASUSTeK (as interest in mini-notebooks rapidly declines), and vendors that sell ebook readers, netbooks, and consumer notebooks, including Barnes & Noble, RadioShack, and Best Buy.