HP's webOS 2.0 to take on iPhone 4, iPad later this year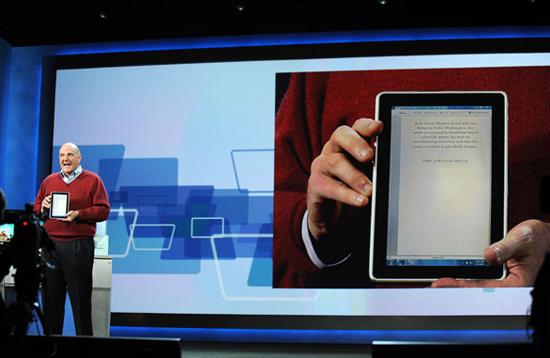 AppleInsider may earn an affiliate commission on purchases made through links on our site.
After making comments to the contrary this summer, Hewlett-Packard is now positioning its acquired Palm webOS as a competitor to Android and iPhone 4, as well as Apple's iPad, relegating its Windows 7 Slate PC offerings to a business tablet niche.
HP is said to be working to revamp its consumer offerings to become more like Apple, selling premium hardware well integrated with its own new webOS software platform.
But at the same time, the company needs to maintain its close relationship with Microsoft as the world's largest Windows PC vendor. The company's efforts to reconcile those two goals has been erratically evolving throughout the year.
Wherefore art thou, webOS?
In January, HP appeared on stage with Microsoft chief executive Steve Ballmer to demonstrate an HP Slate PC running Windows 7, a move that was seen as a preemptive strike on Apple's planned tablet device. However, shortly after Apple's iPad shipped the HP Slate seemed to evaporate as a product.
In April, HP surprised observers by buying up the troubled remains of Palm for $1.2 billion, inciting rumors that HP would dump its Windows Mobile offerings and aggressively enter the smartphone business with new webOS mobiles and tablets.
However, in June HP's chief executive Mark Hurd told a technology conference audience that HP wasn't going to "spend billions of dollars trying to go into the smartphone business. That doesn't in any way make any sense. We didn't buy Palm to be in the smartphone business."
Hurd added, "and I tell people that, but it doesn't seem to resonate well. We bought it for the IP [intellectual property]. The webOS is one of the two ground-up pieces of software that is built as a web operating environment."
In July, HP was noted by John Paczkowski of the Wall Street Journal to be "doubling down" its webOS efforts and dropping its plans to deliver an Android tablet.
The company was also conspicuously absent from Microsoft's listings of new Windows Phone 7 licensees (but not Windows 7 Slates), suggesting that HP was backing away from the next generation of Windows Mobile phones to focus on its own webOS based offerings.
New HP smartphones to be webOS only
HP is now going on record with the media in announcing that it will exclusively use Palm's webOS to power its future smartphones, dumping Microsoft's Windows Phone 7 entirely. Dell has announced similar plans, although it is using Android rather than WP7 or building its own mobile platform.
At the same time, HP executive vice president Todd Bradley (the former chief of Palm prior to the development of webOS) told an audience at the Fortune Brainstorm conference that HP would also build a Windows 7 "Slate 500" but that it will not be sold to consumers and instead be targeted solely to enterprise customers, according to report by InformationWeek.
At the same conference, Jon Rubenstein, the former head of Palm and Apple's iPod product manager before that, said a new webOS 2.0 was on track for delivery later this year, and that HP would be aggressively developing hardware for it. Rubenstein did not offer any details on the features expected in the new release however.
The coming tablet and smartphone battle royal
Apple's current lock on the tablet market with the iPad will be tested by a flurry of new product entries this fall and winter, as a series of products appear using Google's Android or Chrome OS platforms, as Microsoft brings Windows 7 Slates and tablet products based on "Windows Embedded Compact 7" (previously known as Windows CE), and as HP rolls out its webOS tablet, expected to be named PalmPad.
At the same time, smartphone vendors will also be launching new phones using Android 3.0 and Windows Phone 7 around the time HP appears to be entering the market with webOS 2.0. Samsung is also promoting its own Bada smartphone platform.
The lack of interest demonstrated by various competing hardware makers in flocking to a single platform has confounded pundits who have predicted that smartphones would quickly settle into a PC model with one monoculture software platform. Rather than that happening, most vendors have deserted Microsoft and those that have joined Google's Android alliance have worked to maintain their own identity with "skin" layers indented to differentiate themselves.
Efforts by Samsung and HP to launch their own mobile software platforms reflect an interest in duplicating the success Apple has had in maintaining strict control of its entire product with the iOS-based iPhone, iPod touch and iPad.