Licensing agreement with Apple helps Liquidmetal pay off $11M debt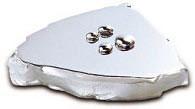 AppleInsider may earn an affiliate commission on purchases made through links on our site.
Following an exclusive agreement with Apple to license its unique metal alloy for an undisclosed sum, Liquidmetal Technologies immediately paid off $10.9 million in debt, suggesting the deal between the two companies was worth at least that much.
The payments were revealed in Liquidmetal's 8-K filing with the U.S. Securities and Exchange Commission this week. While it is still unknown exactly how much Apple paid Liquidmetal for the exclusive rights to use its more durable metal alloys in portable electronic devices, the filing reveals the deal was likely worth at least $10.9 million.
"The foregoing obligations were paid with proceeds from the previously announced strategic licensing transaction with Apple Inc.," the filing reads.
The debt payments were made on Aug. 5, the very same day that Apple and Liquidmetal entered into their agreement to utilize amorphous metal alloys with unique atomic structures. The deal could result in Apple products that are stronger, lighter, and resistant to wear and corrosion.
The largest payment from Liquidmetal was $8.2 million to repay all of its outstanding 8% Senior Secured Convertible Notes. Another $2.4 million for unsecured debt was paid to Ricardo Salas and Norden LLC, while $0.3 million in secured debt was paid to HANA Financial.
The material owned by Liquidmetal is a metal alloy developed by a research team at the California Institute of Technology that are 2.5 times the strength of commonly used titanium alloy and 1.5 times the hardness of stainless steel found in portable electronic devices. Introduced for commercial applications in 2003, the product has since been found in medical equipment, sporting goods, and devices used by the U.S. Department of Defense.
Apple and Liquidmetal entered into a paid, exclusive license that allows only the Cupertino, Calif., company to use the intellectual property in electronic products. Liquidmetal remains free to license its metal alloy to companies for products other than electronics.
The technology allows for thinner, smaller design in products while offering greater protection for internal components, with a scratch and corrosion resistant exterior.
Whether any existing Apple products already use Liquidmetal's intellectual property is unknown. A spokesperson for the company contacted by AppleInsider declined to comment.
Past devices where Liquidmetal's technology was utilized include the Nokia Vertu smartphone, Sandisk Sansa media player, and Sandisk U3 Smart thumb drives. The product was also used to create strong hinge components for devices like flip smartphones.
A report from the Associated Press said it's not a sure thing that Liquidmetal's material will ever make it into Apple's products. "Though it matches the sleek Apple aesthetic, it's prohibitively expensive," it said, noting that the material contains large amounts of platinum, which costs $1,500 per ounce.
The report said that Liquidmetal's material can be cast precisely, with little or no need for machining. The company has also made tougher, more durable variants of "metallic glass."