Apple director Shoemaker developed 'fart,' 'wiz' apps for iPhone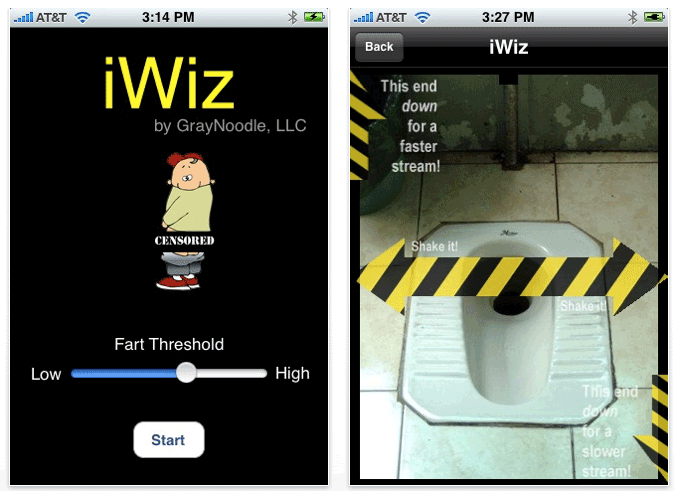 AppleInsider may earn an affiliate commission on purchases made through links on our site.
Phillip Shoemaker, the director of Apple's App Store, has a number of applications available for sale on the iPhone, including a urination simulator called "iWiz," and a flatulence-themed program dubbed "Animal Farts."
As first revealed Wednesday by Wired, Shoemaker is responsible for the company GrayNoodle, which sells seven applications on the App Store. Shoemaker ran GrayNoodle before he took over as director of application technology at Apple in March 2009, but three of the applications — "iWiz," "Medical Poetry" and "101 Cocktails" went on sale after he began work at the Cupertino, Calif., company.
After he was informed of the story, Shoemaker "purged his Twitter account... and updated his LinkedIn profile to remove mention of GrayNoodle," author Brian X. Chen wrote. The websites, however, were archived and are available for download in a .zip file.
Shoemaker declined to comment for the story, but an Apple spokeswoman said that Shoemaker was hired partially because of his background as a developer for the iPhone.
Of course, Shoemaker and GrayNoodle are far from unique in having applications with sophomoric humor available on iOS devices. In fact, there are hundreds of "fart" themed applications available for the iPhone. Initially, when the App Store opened in 2008, Apple blocked such applications, but eventually the company relaxed its policy.
Apple controls what is available on the App Store by reviewing each application available for download. The company has come under fire from critics who object to Apple's rejections for reasons such as "minimum functionality" or "overtly sexual". Some applications, such as a storefront for a beachwear seller, were mistakenly removed in a purging of thousands of adult-themed applications earlier this year.
Wired spoke with one developer who had a satirical religious application rejected from the App Store due to its content in mid-2009. Ben Kahle, developer of "Me So Holy," reportedly said that he finds it hypocritical that the director of the App Store is allowed to sell software some might find inappropriate.
"If they're going to do things like this, why can't I do apps like 'Me So Holy?'" Kahle said.
Apple also reportedly has a policy against company employees releasing software for the App Store without company approval. However, given that it takes time for Apple to review and approve software, it's possible that the three App Store applications released by GrayNoodle after Shoemaker began work at Apple were actually submitted before he started the position.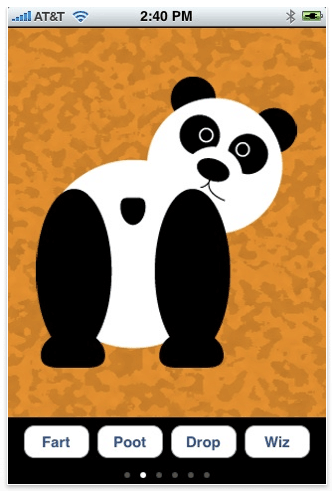 The "iWiz" application from GrayNoodle sells for $0.99 on the App Store. Its description reads, "Simulate the experience of urinating for a long time. Convince your friends that you'll never stop. iWiz allows you simulate urination: faster, slower, or just a trickle." Released on April 17, 2009, it has no user reviews.
"Animal Farts" was released on the App Store on Jan. 19, 2009, before Shoemaker began work at Apple. It has 38 reviews, and 21 of them are one star. Users can press buttons on the screen to make animals, such as a panda bear, "fart," "poot," "drop" and "wiz." Both it and "iWiz" are rated for ages 4 and up.