Apple adds buttons to new fourth-generation iPod shuffle

AppleInsider is supported by its audience and may earn commission as an Amazon Associate and affiliate partner on qualifying purchases. These affiliate partnerships do not influence our editorial content.
Apple's new fourth-generation iPod shuffle is a marriage of the last two generations, bringing back physical buttons to the company's smallest media player.
The new iPod shuffle will sell for just $49 and comes in five different colors. Like the previous generations, it has a clip so it can be worn.
It looks like the second-generation device, but retains the voiceover capabilities of the third-generation.
"People clearly missed the buttons," Jobs said.
The new wearable iPod shuffle has an all-aluminum enclosure with a built-in clip and comes in five colors: silver, blue, green, orange and pink. With nearly 50 percent more battery life, the new iPod shuffle features over 15 hours of music playback on a single battery charge and offers 2GB of storage for just $49.
"We're making the iPod shuffle even better by combining clickable buttons and VoiceOver technology, so users can find and enjoy their music without ever looking at their iPod shuffle," Jobs said in a press release. "With its all-aluminum enclosure and built-in clip the new iPod shuffle is a great workout companion, and at just $49 it's a great entry-level iPod that almost everyone can afford."
The new VoiceOver button on top of iPod shuffle allows users to hear the name of the currently playing song and to switch between songs, playlists or Genius Mixes. VoiceOver speaks 25 different languages and even alerts users when their battery needs charging.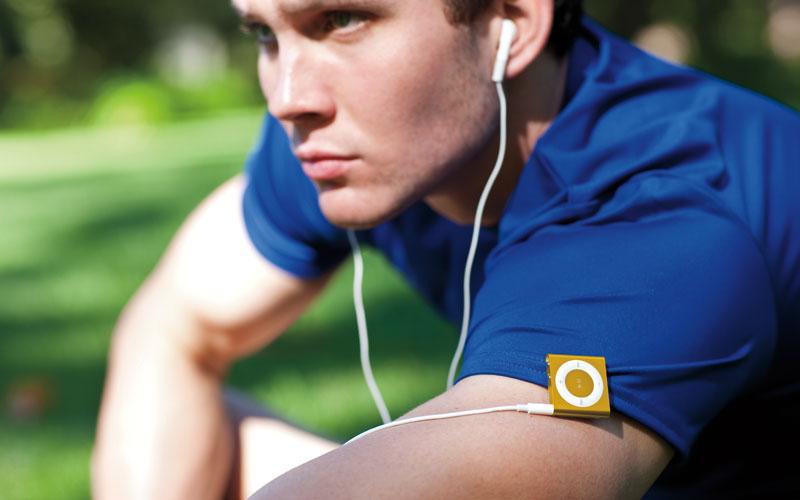 The new iPod shuffle now supports Genius Mixes, the iTunes feature that automatically creates mixes from songs in a user's music library that go great together. Genius Mixes allow users to to rediscover music they already have, but may not have listened to recently.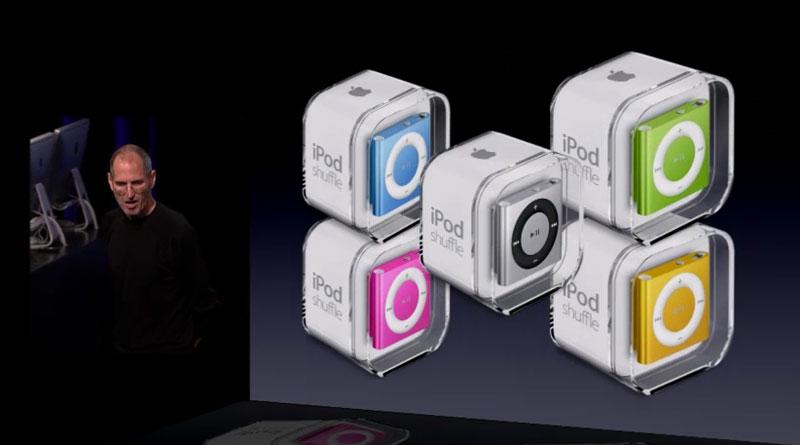 Beautiful and Wearable: It's small, it's colorful, and it lets you take hundreds of songs with you everywhere.
Buttons: The big, clickable control pad gives you an easy way to play your music.
It Talks to You: Press the new VoiceOver button to hear the song title, playlist name, or battery status.
Multiple Playlists: Sync different playlists and Genius Mixes and have the perfect music for every mood.
Height: 1.14 inches (29.0 mm)
Width: 1.24 inch (31.6 mm)
Depth: 0.34 inch (8.7 mm) including clip
True volume: 0.35 cu. inch (5668 cu. mm) including clip
Weight: 0.44 ounce (12.5 grams)
3-way switch (Shuffle, Play in Order, Off )
VoiceOver button
Control pad
Input and output: 3.5-mm stereo headphone jack for audio and for USB charging
Environmental requirements:
Operating temperature: 32° to 95° F (0° to 35° C)
Non-operating temperature: -4° to 113° F (-20° to 45° C)
Relative humidity: 5% to 95% non-condensing
Maximum operating altitude: 10,000 feet (3000 m)
2GB flash drive
Stores data via USB flash drive
Up to 15 hours of audio playback
80% charged in 2 hours; fully charged in about 3 hours
Built-in rechargeable lithium-ion battery
Charging via USB to computer system or power adapter (sold separately)
Earphones
Frequency response: 20Hz to 20,000Hz
Impedance: 32 ohms
Skip-free playback
Frequency response: 20Hz to 20,000Hz
AAC (8 to 320 Kbps), Protected AAC (from iTunes Store), MP3 (8 to 320 Kbps), MP3 VBR, Audible (formats 2, 3, 4, Audible Enhanced Audio, AAX, and AAX+), Apple Lossless, AIFF, and WAV
Environmental Status Report:
iPod shuffle embodies Apple's continuing environmental progress. It is designed with the following features to reduce environmental impact:
Brominated flame retardant-free
PVC-free
Highly recyclable aluminum enclosure
Smaller, more compact packaging (60% smaller, 53% lighter)