iPhone drops to 24% smartphone share, Android jumps to 17%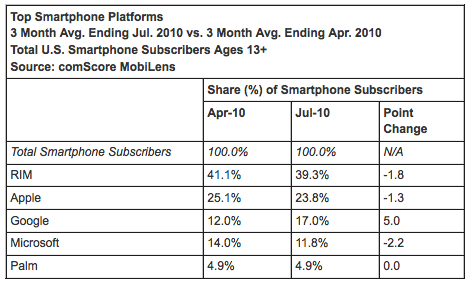 AppleInsider may earn an affiliate commission on purchases made through links on our site.
New data shows Apple, RIM, and Microsoft continue to lose ground to Google in the U.S. smartphone market.
Marketing intelligence company comScore published its quarterly Mobile Subscriber Market Share findings, which tracked total smartphone subscribers for the three months ending in July. According to the report, 53.4 million people in the U.S. owned smartphones during the quarter, up 11 percent from the previous quarter.
Of the top 5 platforms, only Google Android grew in market share, from 12 percent to 17 percent of the U.S. smartphone market. Microsoft, Research in Motion, and Apple all lost share, while Palm hovered at 4.9 percent.
The study also found that two out of three subscribers send text messages and one out of three subscribers use a browser on their mobile devices. 31.4 percent of users download applications for their devices, and 21.8 percent access social networks and blogs.
In June, Android passed iOS to become the third-most-popular mobile phone OS in the world, according to Gartner.
"A non-exclusive strategy that produces products selling across many communication service providers, and the backing of so many device manufacturers, which are bringing more attractive devices to market at several different price points, were among the factors that yielded its growth this quarter," said Carolina Milanesi, research vice president at Gartner.
In a September research note, the research firm projected Apple will sell 130 million iOS-based mobile devices per year by 2014. In comparison, Gartner projected Android will sell 259 million devices in 2014.