Apple updates iOS Remote app to add iPad, Retina Display support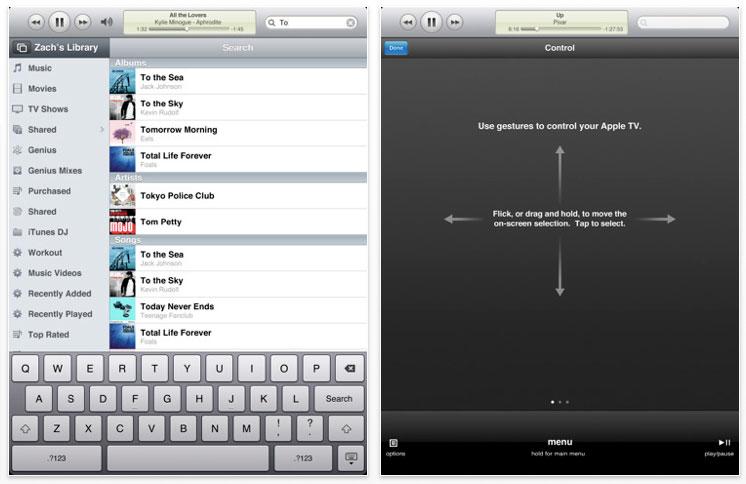 AppleInsider may earn an affiliate commission on purchases made through links on our site.
Apple on Tuesday updated its iOS Remote application to version 2.0, adding support for the iPad, improved picture on the Retina Display found on the iPhone 4 and newest iPod touch, and functionality with the new Apple TV.
With Apple's new Remote application (iTunes link), users will be able to control their Apple TV, as well as iTunes, from anywhere in their home. It also allows users with an iOS device to send music to AirPlay-compatible speakers.
The new Remote application allows control of the new iOS-based Apple TV with simple finger gestures. Users can also enter text with the onscreen keyboard.
"Choose playlists, songs, and albums as if you were right in front of your computer or Apple TV," the official description reads. "From anywhere in your home change a song, pick a playlist or browse through your entire library.
"With a flick of your finger, you can even control every aspect of the Apple TV user interface. Use your device's QWERTY keyboard to quickly tap out the title instead of clicking letters on the Apple TV screen. Then keep tapping to play, fast forward, rewind, and pause to your finger's content."
The full list of new features in version 2.0, according to Apple, include:
Designed for iPhone, iPod touch, and iPad
Optimized for Retina displays and large screen real estate on iPad
Support for Shared Libraries on iTunes and new Apple TV
Bug fixes and compatibility with iTunes 10 and the new Apple TV