Hackers demonstrate 'jailbreak' exploit on new Apple TV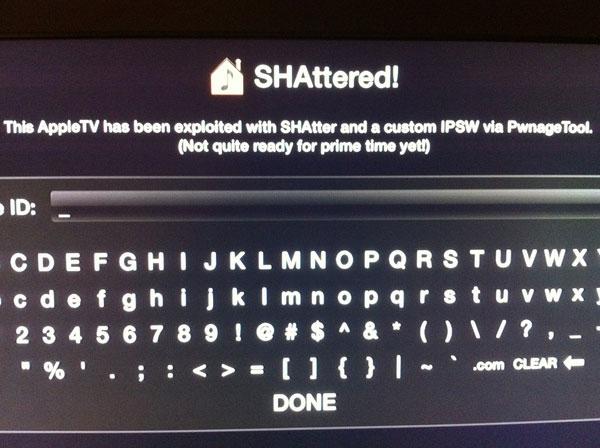 AppleInsider is supported by its audience and may earn commission as an Amazon Associate and affiliate partner on qualifying purchases. These affiliate partnerships do not influence our editorial content.
The same exploit hackers have used to run unauthorized software on iOS 4.1 for the iPhone and iPod touch also works with the new Apple TV, a new screenshot has proven.
When the iOS 4.1 firmware for Apple TV was released earlier this week, hackers said the "SHAtter" exploit would likely work on the new set top box. A new picture released Friday is the first evidence from the group of hackers known as the iPhone Dev Team that the exploit does in fact work.
However, as was stated in the released screenshot, the software is "not quite ready for prime time yet."
A member of the iPhone Dev Team who goes by the handle "MuscleNerd" posted the screenshot via his Twitter account on Friday. It shows a photo of a text entry screen on the device for Home Sharing with modifications made.
"MuscleNerd" indicated that he and his team are "not quite sure how to run apps yet," though. But the ultimate goal is to allow users to install their own third-party software on the device through the "jailbreak" process.
When the iPhone was first released in 2007 and Apple's official App Store for third-party software did not yet exist, hackers who would jailbreak the handset enabled developers to create their own unauthorized software for the device. Though the new Apple TV runs the iOS operating system, it does not have an App Store of its own like the iPhone or iPad.
The first Apple TV orders began arriving this week, and people have been prying away at the secrets contained within the tiny second-generation device. A disassembly of the hardware conducted this week found that the device has 8GB of storage and 256MB of RAM inside.
While hackers are interested in bringing iPhone and iPad features to the Apple TV, another person this week demonstrated the ability to export the "Lowtide" user interface on the new set top box to other iOS devices. Its rough compatibility accomplished with an iPod touch could be a sign that Apple plans to bring playback services to its iOS-powered mobile devices.