Apple's iPhone 4 more susceptible to damage than predecessor

AppleInsider may earn an affiliate commission on purchases made through links on our site.
In the first four months since it hit the market, Apple's redesigned iPhone has seen a reported accident rate that's 68% higher than its predecessor, primarily the result of broken screens, according to a leading third-party warranty provider.
A report released this week by SquareTrade examined the accident claim rate reported by its customers in an effort to supply some concrete data to the discussion of whether Apple's latest handset design is more or less robust than the one it replaces.
After reviewing the accident claim rate for over 20,000 iPhone 4 warranty owners and comparing it to the iPhone 3GS claim rate from which a similar-sized data pool exists, the firm's data showed that iPhone 4 owners are reporting accidents 68% more frequently than iPhone 3GS owners.
More specifically, 4.7% of iPhone 4 owners reported an accident in the first 4 months of ownership, almost 70% higher than iPhone 3GS owners, 2.8% of whom had an accident over the same time period.
Of these iPhone 4 accidents, cracked and broken screens account for the vast majority of iPhone accidents, or more than four-fifths of reported iPhone 4 accidents, which is slightly higher than that reported for the iPhone 3GS, according to SquareTrade.
"Multiplying the accident rate with the cracked screen distribution, we find that 3.9% of iPhone 4 owners reported a cracked screen within 4 months, as opposed to just 2.1% of iPhone 3GS owners," the firm said in its report. "While our data doesn't identify which broken screens resulted from dirt trapped behind a slide case, at least a quarter of the broken glass claims involved the back screen."
With an estimated 82% more cracked screens being reported by iPhone 4 owners, SquareTrade claims it's clear that the latest iPhone is more prone to damage than its predecessor. It created a straight-line projection to estimate the accident rate after the iPhone 4 has been on the market for a full year, which shows that rate climbing to 15.5% by month 12, twice that of the iPhone 3GS: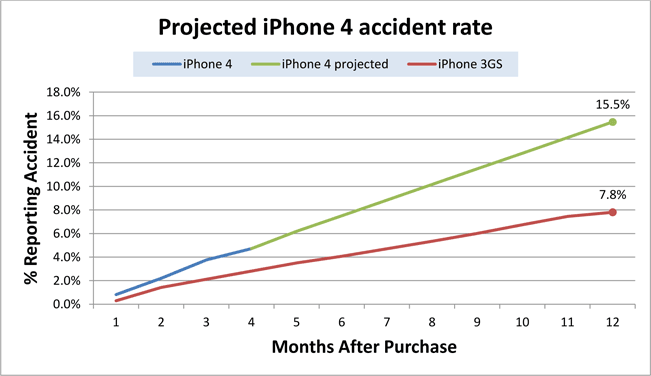 The firm also looked at non-accident related malfunctions, to determine if the iPhone 4 was experiencing hardware problems beyond the glass screen. Fewer than 0.5% of iPhone 4 owners reported a non-accident claim, which was roughly the same as the iPhone 3GS.
With just 4 months of data, SquareTrade concluded that the iPhone 4 "is significantly more prone to physical damage than its predecessor," but noted that part of that may be due to the fact that there's now twice the amount of glass surface area to break, now that the back of the iPhone 4 is also aluminosilicate glass.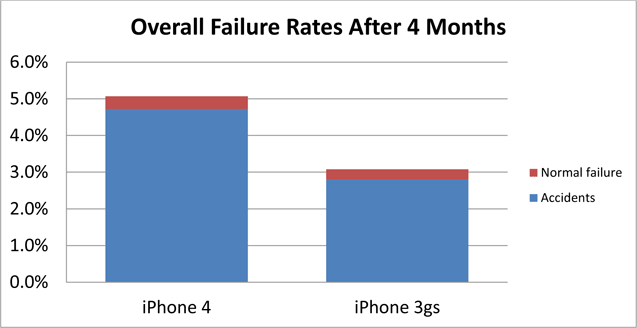 "Despite this troubling increase, it's important to take the accident rate into perspective. Overall, the iPhone is still a very well constructed device, with a non-accident malfunction rate much lower than most other consumer electronics," the firm said. "In [our] previous study comparing smart phone reliability from November 2008, we found iPhones to be far more reliable than Blackberrys and Palm Treos."
SquareTrade says it plans to update its findings with data from the latest array of Android handsets in the near future, adding that it believes it's possible that even with the double glass, the iPhone may sport an overall failure rate that is still better than the competition.