A closer look at Apple's forthcoming Mac OS X 10.6.5 Update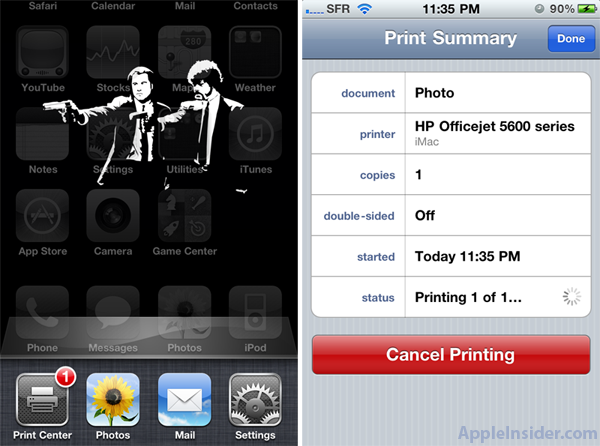 AppleInsider is supported by its audience and may earn commission as an Amazon Associate and affiliate partner on qualifying purchases. These affiliate partnerships do not influence our editorial content.
Development of Apple's Mac OS X 10.6.5 Update continues to progress this week, with the company distributing new pre-release copies of software, which will soon usher in a key new feature for iOS device users while also addressing a dozen or so shortcomings in Mac OS X 10.6.4.
The latest beta of the update, labeled build 10H555, began making its way to select developers on Wednesday evening in the form of a 614MB disk image.
Due for a release ahead of iOS 4.2, Mac OS X 10.6.5's key focus will be interfacing with iPhones, iPod touches and iPads running the new flavor of iOS, to allow them to print wirelessly to any printer on that's connected to a Mac on the same WiFi network via Apple's new AirPrint technology (see: First Look: Apple's AirPrint).
Without Mac OS X 10.6.5, devices updated to iOS 4.2 next month will only have the option of printing to the Print Simulator (an Apple development tool) or one of three HP Photosmart printers that already include built in support for AirPrint, and don't require a Mac running 10.6.5:
General Stability Enhancements
In addition, the 10.6.5 Update — which Apple will recommended for all users running earlier versions of Mac OS X Snow Leopard — will include roughly a dozen general operating system fixes that enhance the stability, compatibility, and security of a Mac. These include:
improve reliability with Microsoft Exchange servers
resolve a delay between print jobs
address a printing issue for some HP printers connected to an Airport Extreme
resolve an issue when dragging contacts from Address Book to iCal
address an issue where dragging an item from a stack causes the Dock to not automatically hide
add SSL support for uploading files to iDisk
resolve an issue with Wikipedia information not displaying correctly in Dictionary
improve performance of MainStage on certain Mac systems
resolve spacing issues with OpenType fonts
improve reliability with some Bluetooth braille displays
resolve a VoiceOver issue when browsing some web sites with Safari 5
address stability and performance of graphics applications and games
While the last several pre-releases of Mac OS X 10.6.5 have contained no known issues, according to documents accompanying the betas, Apple continues to request that developers focus their testing efforts around a handful of key areas, namely printing — both traditionally and via AirPrint.
In addition, developers have been asked to test the software against any of their own applications that include 3D graphics, make use of QuickTime, or read and write from USB devices. Apple has also been tweaking the performance of Time Machine, its automated backup software, for improved reliability.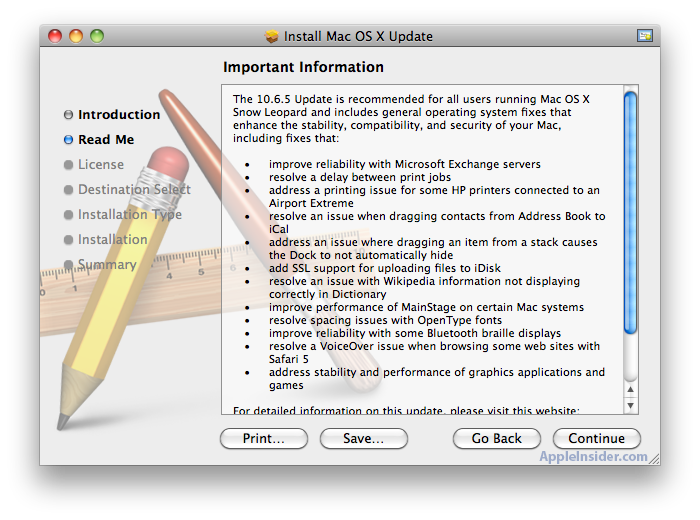 Mac OS X 10.6.5 is expected to arrive any time in the next few weeks. The last time Apple released an update to Mac OS X 10.6 Snow Leopard was back in June, when it issued Mac OS X 10.6.4 to address trackpad issues and compatibility problems with Adobe's Creative Suite 3.