First Look: Apple's new Mac OS X 10.7 Lion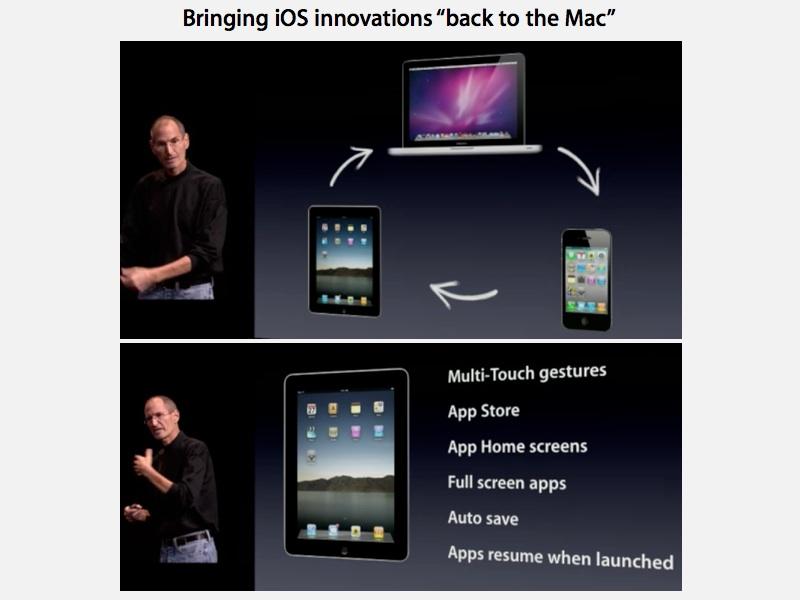 At its "Back to the Mac" event, Apple emphasized the importance of its Mac business, despite the fact that its desktop and notebook computers now represent just 33% of the company's revenues.
Chief operations officer Tim Cook pointed out that the 13.7 million Macs Apple sold in the last financial year are now a $22 billion operation, having grown dramatically over the past several years even as Apple has itself grown even faster by adding iPods, iPhones and iPads into the product mix.
If Apple's Mac business were spun off, it would stand by itself as number 110 of the Fortune 500, Cook noted, joking "we have no plans to do that!" to laughter of the audience.
Mac sales have tripled in the last five years, with installed base of Macs is now just short of 50 million users. Cook also pointed out that Mac sales grew by 27 percent over the past year, compared to the industry average of just 11 percent. "This didn't just start happening," Cook pointed out. Macs have outpaced the PC industry in each of the last 18 quarters, Cook said.
Cook also cited NPD's August 2010 consumer market share figures for US retail, which gave Apple's Mac brand a whopping 20.7% of PC sales. "With the share rising, and the units rising much faster than the industry, we have a very vibrant developer community," Cook said, pointing out there are now 600,000 registered Mac developers, with 30,000 new applications per month.
Cook singled out Valve's recent deployment of Steam for the Mac, and its efforts to bring simultaneous releases of new games for the Mac and PC; Autodesk's recent release of AutoCAD for Mac (which Cook said Apple has long coveted), and noted Microsoft's new release of Office 2011 for Mac.
Pushing new iOS technology investments back to the Mac
The technology invested in making a mobile version of Mac OS X to power the iPhone, and in adapting that to serve the iPad, is now coming full circle back to the Mac, Steve Jobs said, as the company now works to fold many of its mobile innovations into the next version of Mac OS X 10.7, codenamed Lion.
Among the mobile-optimized features Apple indicated it will bring to the Mac from iOS are:
Expanded multitouch gestures (albeit centered on the trackpad rather than attempting to use a vertical multitouch screen, something the company flatly said it research has colluded "does not work")
An App Store for Mac titles (facilitating easy shopping, software updates, and simple installation)
App Home Screens which appear from a new LaunchPad Dock icon (making it easy to present an iPad-like array of app icons to choose from and organize into iOS-like Folders)
Auto Save features for app documents, so users don't have to worry about manually managing documents, and
Apps that resume when launched, carrying ahead the behaviors of iOS apps.
On page 2 of 3: A Mac App Store
The idea of Apple bringing its iOS App Store concept to the Mac has been widely anticipated as a step that would make it easier for users to find and install software, keep their software up to date, greatly reduce software theft (thereby allowing developers to charge less while enjoying higher volumes of sales, just as they have in the iOS App Store) and encourage a rich economy of software development on the Mac in the same way the App Stores for the iPhone and iPad have.
The fear however, voiced by some, is that such a store would prevent Mac users from obtaining software from other sources, prevent the use of older software titles that were not designed to be sold through the store, and perhaps result in new issues over Apple's level of control over Mac software, much as some have worried that Apple is already exercising too much control over its iOS App Store.
To extinguish these fears, Jobs noted that the new Mac App Store won't be the only way to obtain new software; it will only be a new option, "the best," Jobs said. This also means there won't be any issue with running older, existing software that wasn't designed for distribution thorough Apple's store.
While Apple has strict guidelines for App Store titles (in part because it has to preserve its relationships with carriers, and also because it wants to mold and control the initial development of iOS), it appears the company will have a much more liberal approach to approving Mac software titles. Even if it does not, developers will be able to continue to sell their software outside of the Mac App Store, something that's not an option on iOS devices.
Apple surprised the audience by noting that the Mac App Store is such a priority that it won't be waiting for Mac OS X Lion to ship (currently planned for the summer of 2011) before deploying the store; it expects to accept the first Mac App Store titles next month, and have the store operational in 90 days for current Snow Leopard users.
Jobs demonstrated the store behaving very similar to the iOS App Stores embedded into iTunes, although the Mac App Store exists as a standalone program. The library shows top ten lists of Mac apps by popularity and revenue, and presents a familiar listing of the apps' features, screen shots, and users' comments.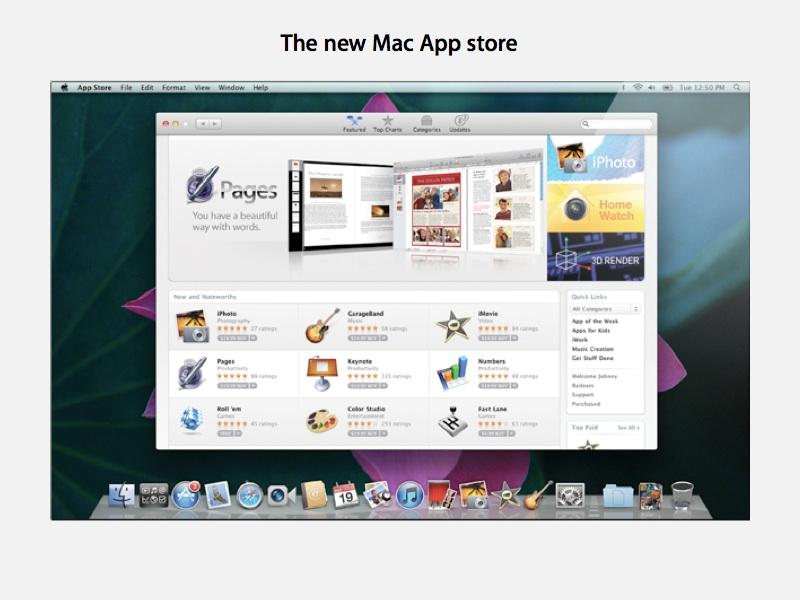 When an app is selected for purchase, an animated app icon jumps from the Mac Store into the Dock, where it loads with a progress bar. Once the download is complete, the app is ready to use without any additional installation steps such as entering a license key. The app is automatically licensed for personal use on any of the individual's Macs.
Prices for Mac apps in the new App Store are likely to be higher than simpler iOS apps, but the demo store that Apple showed presented the company's own apps at about the same price they now sell for as part of the iWork and iLife bundles: $19.95 for Pages and $14.99 for iMovie, for example. It also listed a variety of fictitious placeholder apps including "Color Studio" for $29.99, a "Fast Lane" game for $4.99, "Clipboard" for $2.99, "Quantum" for $39.99, and a variety of free apps.
Actual prices will obviously depend on how developers approach the new Mac App Store, but it appears Apple will continue to encourage developers to charge something for their apps but not so much so as to discourage volume sales. Low priced, high volume sales has resulted in great success for the iOS App Store, something other mobile software stores have been unable to match.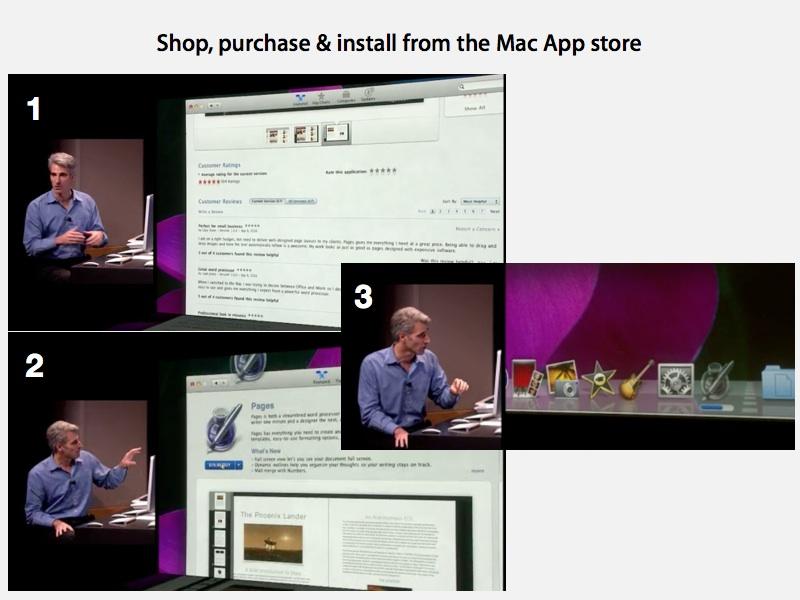 On page 3 of 3: LaunchPad, a new Zoom, and Mission Control
With the number of apps Mac users are likely to download, the conventional Mac OS X Dock needs a replacement. Already, many users have grown past the limited capacity inherent in the Dock, something Apple addressed with Leopard's Dock Folders and enhanced in Snow Leopard with a large-window icon display.
In Lion, Apple is expanding that concept with LaunchPad, which acts as a dedicated Dock icon that expands to present a large array of selected app icons. Like the iOS 4 Home Screen, these apps can be combined to form Folders of related apps. Also like the Home Screen, the page of apps can be flicked forward and back to reveal multiple pages of apps, using multitouch gestures on the trackpad or new Magic Mouse.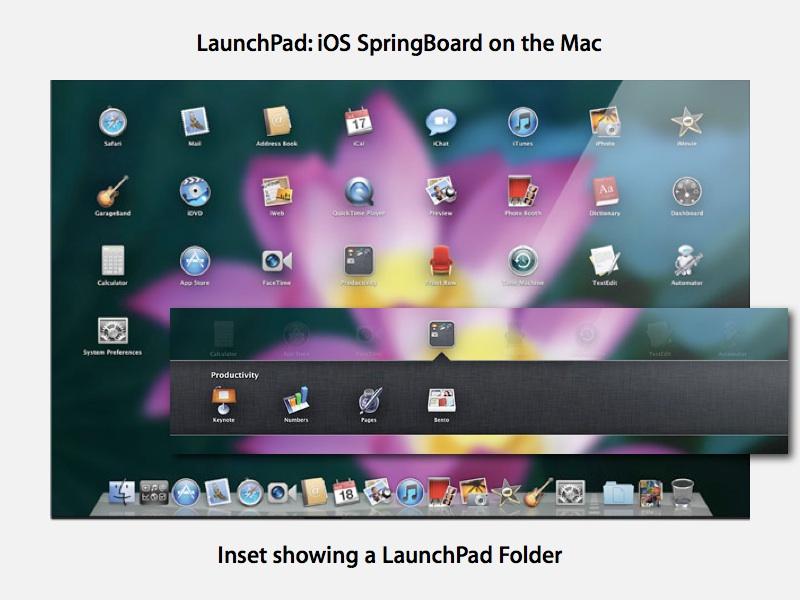 A new Zoom to full screen mode
Also new in Lion is expanded use of full screen displays within apps. The green Zoom button on the conventional Mac window title bar is now associated with going full screen; previously, the Zoom button set a Mac window to be as large as it needed to be, either accommodating the current document or taking up most of the screen.
This new behavior is more like that of the comparable button on Windows, albeit rather than only making the window as large as possible, it actually enters a full screen mode where the app takes over the entire screen and loses its window borders, controls and customary scroll bars entirely.
This full screen mode brings Mac apps into the world of the iPad, where there's no menu bar, no windows to manage, controls are simple and sparse, and activity is focused on the task at hand, as demonstrated by the new iPhoto 11, below.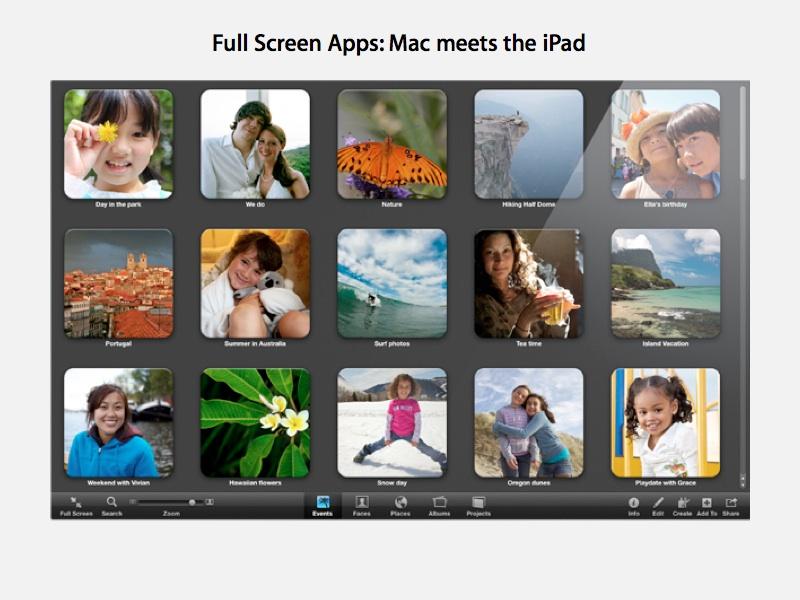 Mission Control: Unified Expose, Dashboard, Spaces, and full screen apps
Another rethinking slated for Lion is a combination of tools Apple has invented to support window and app selection and organization. Expose has evolved as a way to present all the running app's windows in a view that makes it easier to jump between apps and to a specific window in an app.
With Lion's new Mission Control, its easier to move between apps that present individual windows (such as Safari) and apps that present a full screen workspace (such as the new iPhoto 11). When invoked, Mission Control presents a series of the currently running, full screen apps at the top of the window along with the Dashboard and the Desktop, and collections of apps and their windows in the middle.
Individual groups of apps can be highlighted, which spreads out the app's windows for easy viewing.
Similar to the iOS, users can also swipe to the left to bring up Dashboard widgets, a step that more tightly integrates Dashboard into the desktop environment rather than making it a separate world.
Spaces, which was a difficult concept for many uses and didn't always work flawlessly, is now integrated almost transparently, allowing full screen apps to live in their own virtual desktop so that users can switch between windows on the desktop to a full screen app such as Preview or iPhoto, and back without minimizing the full screen app.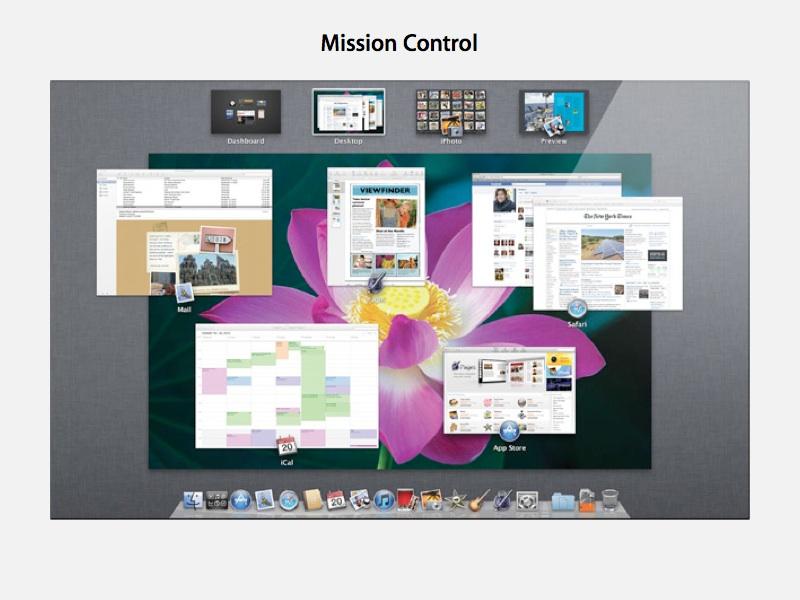 Apple said it would continue to unveil new features of Mac OS X Lion as the target release date of summer 2011 nears.