Leaked videos show Sony 'PlayStation Phone' in action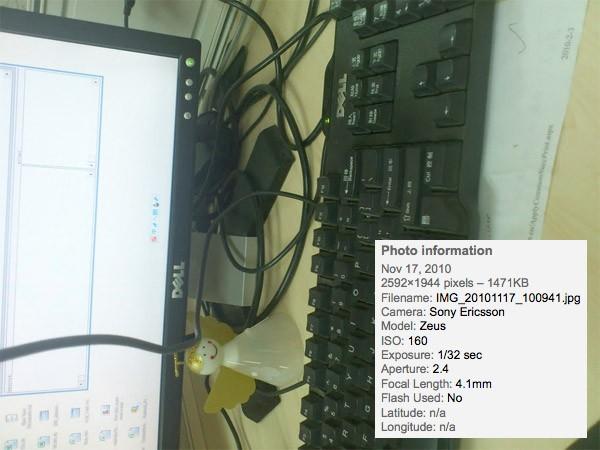 Several videos of prototypes of Sony Ericsson's 'PlayStation Phone' have emerged, giving viewers an early look at Sony's answer to the increasing popularity of gaming on the iPhone.
Leaked photos of the 'PlayStation Phone' were published by Engadget in October, but hands-on videos posted to YouTube this week are the best evidence for the phone's existence so far.
The device, which is listed as the "Zeus" model number in the video, has slide-out physical controls similar to the Sony PSP Go handheld gaming device, in addition to a touchscreen, which reportedly measures 4 inches. The slide-out controls appear to have the rumored multi-touch touchpad.
The video also corroborates rumors that the smartphone runs Google's "Gingerbread" Android 2.3. Earlier reports indicated that the phone has a 1GHz Qualcomm chip, 512MB of RAM, a 5 megapixel camera and 1GB of internal storage.
In a second video, the user selects the "PlayStation" icon to verify the smartphone's PlayStation functionality, though the device lacks any "content items" to display.
Further evidence of the Zeus PlayStation phone emerged Friday when Engadget reported that photos taken by a Sony Ericsson Zeus test unit had been uploaded to the Picasa photo sharing site. One photo appeared to have been taken from a workstation in China.
A partnership between Sony's PlayStation Portable platform, Sony Ericsson smartphones, and Google's Android could present a formidable challenge to the iPhone and iOS. Since games are consistently the top applications on the iPhone App Store and Android Market, an Android-based smartphone with an exclusive gaming platform may be enough to attract customers away from competitors to the Zeus PlayStation phone.
As Apple has aggressively pushed its iOS devices as gaming devices, it has eaten into Sony's share of the market. Earlier this year, a report revealed that iOS had jumped to a 19 percent share of portable gaming profits, while Sony's PSP had declined by nearly half to 11 percent. A September survey found that Apple has more than twice the number of mobile gamers in the U.S. than Sony.
Last year, Sony attempted to counter the growing success of the iPhone and App Store with the release of the PSP Go. By abandoning physical media for games and switching to aggressively priced online downloads through the PlayStation network, Sony hoped to recapture lost market share. Though sales of the PSP Go were disappointing, the device may have laid the groundwork for mobile access to the PlayStation Network in preparation for the Zeus smartphone.
Since the PlayStation Network offers games, movies, TV series and a social network, Sony may be going after more than just the gaming market with a PlayStation-branded phone. With access to media through the PSN, the Zeus could pose a serious threat to Apple's dominant iPhone/iTunes combo.