Android activation pace hits a plateau below Apple's iOS [u]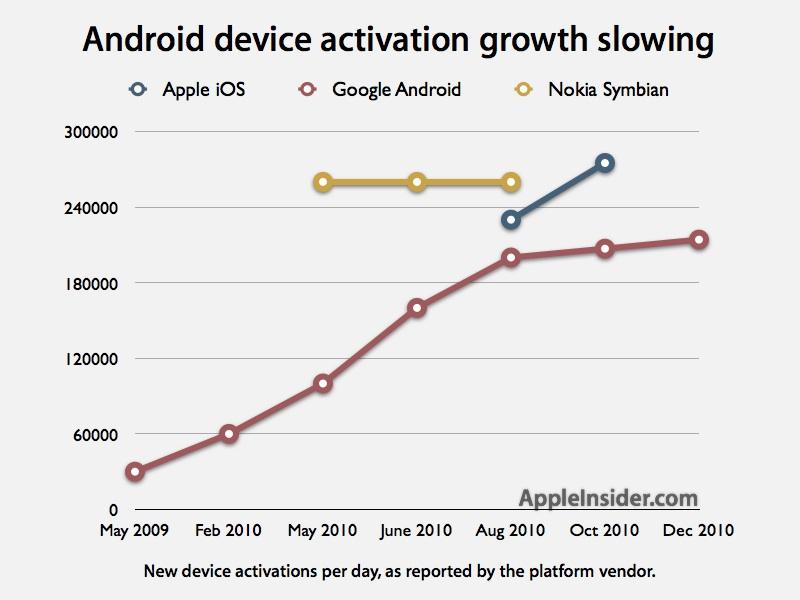 AppleInsider may earn an affiliate commission on purchases made through links on our site.
Android mobile activation numbers have leveled off dramatically after two years of rapid increases, signaling a maturing of the platform's growth phase as an alternative to Apple's iOS, which continues to claim a lead.
At the company's Android OS 2.3 Gingerbread release event today, Google noted that the current pace of Android's weekly device activations was at 1.5 million, or just over 214,000 per day. That compares with 270,000 iOS devices per day, as reported by Apple back in October.
Android's activation growth is less than 8 percent higher than the number Google cited in August, indicating a plateau in the growth of new Android activations after a summer of impressive growth figures that once swelled by 60 percent within just a month.
Observers closely watched iPhone sales looking for signs of change in demand, interpreting cyclical changes related to new model introductions as predictors of whether Apple could meet its initial goals or rival entrenched competitors including Microsoft's Windows Mobile, RIM's BlackBerry and Nokia's Symbian platform.
In the Android world however, the variety of hardware makers capable of shipping Android-based phones makes it more difficult to immediately count how many phones are being sold collectively. Google has instead preferred to publish activation numbers.
Throughout 2009, the pace of Android's activations nearly doubled from 30,000 per day in the spring ramping up to 60,000 new mobiles per day in February 2010. Rapid growth continued in 2010, enabling Android to hit 100,000 activations in May and 160,000 in June. By early August, Google was claiming 200,000 Android activations per day.
iOS vs Android activations
Speaking at Apple's iPod event in early September, Steve Jobs took issue with Google's activation numbers. Recapping iOS device sales at the event, Jobs told the audience, "People are throwing around a lot of numbers as to how many of their operating systems they're activating per day. We are activating a little over 230,000 iOS devices per day. And that's new activations."
Taking a shot at Google, Jobs added, "we think that some of our friends are counting upgrades in their numbers. If we counted upgrades in our numbers, they'd be way higher than 230,000. But we think the most appropriate way to count them is just new activations."
Google responded by saying that its reported Android activation numbers "do not include upgrades and are, in fact, only a portion of the Android devices in the market, since we only include devices that have Google services."
Google's latest December number of around 214,000 daily activations is not only below Apple's figures from September, but also only slightly better than it had claimed back in August, despite a new flurry of Android smartphones and new tablets such as the Samsung Galaxy Tab.
Update: Jobs updated Apple's activation figures in mid October during the company's quarterly earnings conference call, reporting that the company was activating 270,000 iOS devices per day on average, hitting occasional daily peaks of 300,000.
A tough nut to crack for everyone else
During September's Nokia World event, Nokia vice president Niklas Savander claimed his company had sold 260,000 phones per day during the summer, saying this figure was greater than Apple and Google's platforms combined. Electronista said the "claim was dubious."
However, the rapidly slowing pace of Android's activations, together with the slightly higher numbers reported by Apple and the rather low ceiling claimed by Nokia indicate that platform growth among the leading mobile device platforms is reaching an equilibrium, particularly in the market for smartphones.
This suggests new growth will have to come from either predatory growth that comes out of the hide of existing players, or from new categories of devices ranging from iPod touch-like mobile media players to iPad-like tablet devices.
This also provides a bleak outlook for new platforms hoping to enter the saturated mobile platform market, particularly Microsoft's new Windows Phone 7, HP's emerging Palm webOS 2.0, Samsung's Bada, and RIM's new QNX kernel paired with Adobe AIR, used in the forthcoming PlayBook.