Apple rolling out 90-second iTunes song previews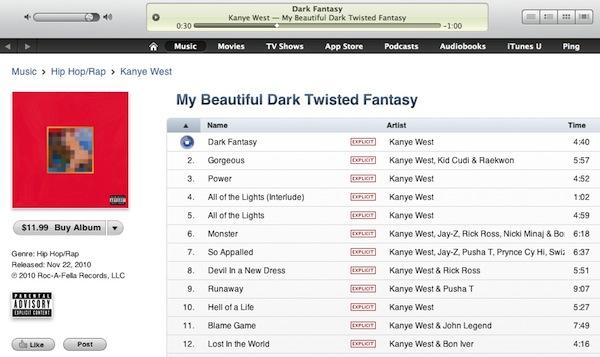 AppleInsider may earn an affiliate commission on purchases made through links on our site.
Apple has begun extending song previews in the iTunes Store to 90 seconds on select songs in the U.S. store.
Some songs on iTunes now offer 90-second previews for users of the U.S. iTunes Music Store. For instance, "Dark Fantasy" by Kanye West currently offers a 90-second preview in the U.S. iTunes Store, but only 30 seconds in the U.K. version.
It is currently unclear whether the extended song samples will eventually apply to all regions and songs.
In November, a letter sent to music label representatives from "The iTunes Store Team" notified rightsholders that Apple was "preparing to increase the length of music previews," but gave no indication of the timeline. The letter stated that representatives would confirm acceptance simply by continuing to offer content on the iTunes Store.
According to the letter, the changes will only affect songs longer than 2 minutes and 30 seconds. Sample cliips for songs shorter than 2 minutes and 30 seconds will stay at 30 seconds.
Apple was originally rumored to announce extended song previews at its Sept. 1 media event, but the deal was reportedly blocked at the last minute by the National Music Publishers Association. Several publishers apparently believed that longer previews should require an additional license for "performance rights."
"We believe that a license is necessary, and conversations must occur before song samples are extended," NMPA general counsel Jay Rosenthal told CNET.