RIM's BlackBerry rapidly lost Verizon share to Android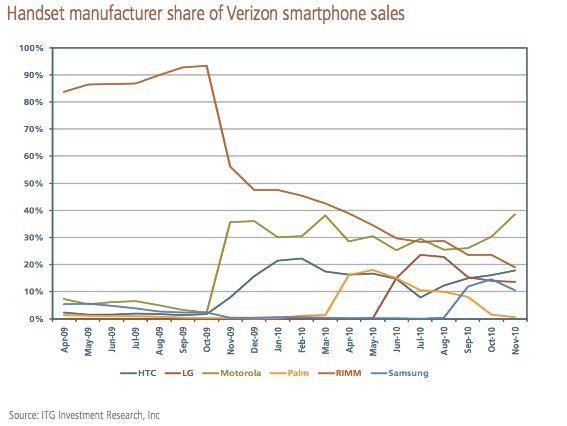 Just over a year ago, Research in Motion's BlackBerry made up more than 90 percent of Verizon's smartphone sales. Its share is now below 20 percent, thanks to the heavily promoted launch of Android smartphones on the carrier.
According to a report by John Paczkowski of the Wall Street Journal's "Digital Daily" blog, RIM's slip at Verizon was documented by ITG Investment Research analyst Matthew Goodman, who charted RIM's decline at Verizon at the hands of new Android models (chart below).
The startling speed at which RIM plummeted from being Verizon's number one selling smartphone platform to being a minor player neck-and-neck with Verizon's top four Android licensees closely mirrors the timing of the "Droid" ad campaign Verizon began at the release of Motorola's first major Android smartphone last winter.
Prior to the launch of Verizon's Motorola Droid, Android had a negligible share of Verizon's smartphone mix throughout 2009, with all Android licensees together amounting for less than a ten percent share of the provider's smartphone sales. Most of those licensees were also making a number of Windows Mobile phones for Verizon last year.
Verizon's big push to sell Android devices in 2010 was motivated by a desire to sell more lucrative data contracts, something that RIM's existing BlackBerry models (and the Windows Mobile phones of Verizon's current Android licensees) had failed to do in 2009.
The problematic launch of RIM's iPhone-like BlackBerry Storm in November 2008 did little to slow the rapid decline of BlackBerry at Verizon, and likely emboldened the carrier to shift its efforts to Android, which did manage to sell well as an alternative to the AT&T-exclusive iPhone.
The Storm's failure at Verizon wasn't evident in the company's press releases, which claimed at the time, "customers across the country lined up to purchase the new BlackBerry Storm. The Storm offers customers the reliability of the Verizon Wireless 3G network and the full power of a revolutionary touch-screen, multimedia smartphone with global connectivity."
Despite Verizon's enthusiasm, the Storm launch was plagued with bugs and failed to generate more than a fifth of the sales of the iPhone 3G at Verizon's US rival, AT&T. A second Storm2 model released late last year was given only minor attention by Verizon as it flexed its 2010 marketing muscle behind the new crop of Android 2.0 phones, led by Motorola's Droid.
Commenting on the last year of sales, Paczkowski wrote, "with sales of the [BlackBerry] Tour/Bold series dwindling and no Storm refresh in sight, BlackBerry sales at Verizon are in serious decline." Verizon reportedly believes that RIM's latest BlackBerry OS 6 will not have a "material impact" on its business.
While RIM's smartphone sales at Verizon have crashed, the Canadian phone maker is still the second largest of Verizon's herd of smartphone vendors. That's because, while Android now collectively makes the majority of the provider's smartphone sales, the installed base of Android smartphones is split between a variety of competing hardware manufacturers.
Motorola's Android smartphones only decisively surpassed RIM at Verizon late this summer; Motorola had been selling more phones overall (outside of smartphones) than RIM throughout the entire year. Behind Verizon's first place Android vendor Motorola, its second is HTC, which was just below RIM at Verizon in November, and threatening to surpass it for the number two smartphone spot at the provider overall.
LG, Verizon's third place Android vendor, sells the most Verizon phones overall outside of smartphones (nearly a third of all Verizon phones). It just began selling Android smartphones at Verizon this summer.
Similarly, Verizon's fourth place Android vendor Samsung also sells a large share of the company's non-smartphone models (more than a quarter). It too just recently began selling Android smartphones in the third quarter. Just last month, Samsung also began selling its iPad-alternative, the Galaxy Tab.
On page 2 of 2: Looking for a bigger better deal, Android vs iPhone at Verizon
Looking for a bigger better deal
Despite now having a variety of Android phone models to offer its subscribers from more than four major vendors, Verizon is still expressing a lot of interest in Apple's iPhone.
Analysts have suggested the provider is willing to make significant concessions to Apple in order to be able to carry early next year, with analyst Shaw Wu recently saying in a note to investors that Verizon is believed not only to be accepting Apple's conditions but is also willing to pay extra to keep the iPhone exclusive to it and AT&T, prevent Sprint and T-Mobile from also offering the phone.
That's the strongest indication so far that Verizon is looking beyond Android to back the smartphones its customer want, rather than simply looking to war with Apple or AT&T in dramatic ideological battles.
Verizon has previously shifted its attention from platforms that failed to attract and retain subscribers, particularly ones that, like Microsoft's Windows Mobile, have generated additional costs related to returns prompted by user dissatisfaction. Microsoft's launch of KIN with Verizon this summer was a particularly expensive flop.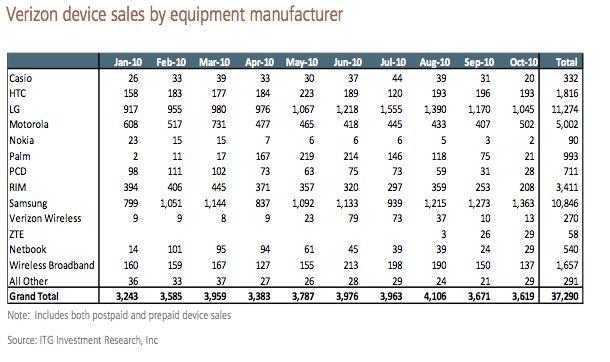 The rapid fall of BlackBerry at Verizon, foreshadowed by a similar implosion of Microsoft's Windows Mobile (which now accounts for a statistically irrelevant number of smartphone sales there) indicates how quickly customers will leave a mobile platform to adopt something that fits their needs better.
This is particularly notable given that both Microsoft's broadly licensed Windows Mobile and RIM's vertically integrated BlackBerry were historically considered strongly entrenched in business use due to their connections with enterprise server infrastructure and custom software development.
Unlike Windows Mobile or BlackBerry, Android's platform is not protected by ties to enterprise sales. Android itself lacks a variety of features significant to business users, including functional support for Exchange (particularly hardware encryption), 802.1x WPA2 wireless network authentication, corporate proxy servers, Cisco VPNs using certificates, OpenVPN, CalDAV, remote wipe, and managed apps and configurations. Apple has worked to cover those bases for iPhone (and iPad) users, resulting in strong interest from enterprise users.
Android vs iPhone at Verizon
While Android models have offered Verizon a credible alternative to the iPhone during a year when it had nothing else to sell, simply being new and different (and well marketed) isn't enough to maintain customers. This is demonstrated by Palm's tepid launch of its new webOS-based smartphones at Verizon this year. Although Palm's sales were enough to briefly surpass HTC's at Verizon this spring to become the carrier's third largest smartphone vendor, Palm couldn't sustain those sales, and has since tumbled off into irrelevance.
Android is expected to face a significant challenge from Apple's iPhone on Verizon next year. Having access to the iPhone will allow Verizon to lower its customer acquisition costs, as Apple heavily promotes its own products through its retail stores and online. Verizon has so far had to pay for a large portion of Android's promotion in the US itself.
The carrier is also expected to inhale a significant portion of existing iPhone subscribers at AT&T who are dissatisfied with the level of service coverage they currently have, a rare opportunity for the carrier. Apple's iPhone is also proven to retain subscribers and reduce the expensive churn that drives up wireless providers' costs.
Verizon's current Android licensees were once the company's Windows Mobile licensees, and many were also once Symbian licensees. Both widely-licensed platforms have rapidly crumbled since the debut of the iPhone. At the same time, the parallel failure of the Palm OS and the deteriorating share of RIM 's BlackBerry at Verizon also provide warnings to Apple that vertically integrated products that don't keep pace with their competitors won't hold onto their market share either.