Goldman Sachs resumes coverage of Apple, sets $430 price target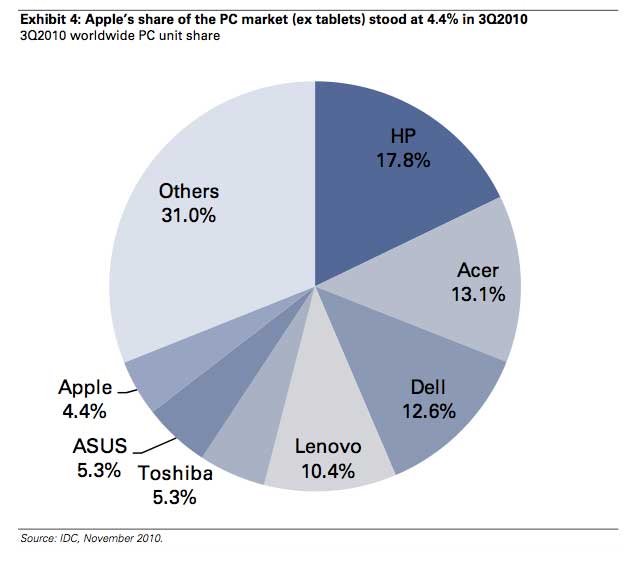 Prominent investment firm Goldman Sachs resumed its coverage of Apple stock on Monday, kicking things off with a 12-month price target of $430 and a prediction that the company's gross margins have bottomed.
The 59-page report sent to investors on Monday calls the platform-centric business model of Apple the company's "secret sauce." It's that approach, analyst Bill Shope with Goldman Sachs argued, that has enabled Apple to quickly gain market share in the phone and tablet markets with the iPhone and iPad, respectively.
"We believe significant growth and profit opportunities for this platform still lie ahead," Shope wrote. "As a result, we expect revenue and earnings expectations to continue to trend upward, and we view the shares as attractive at current levels."
Shope has forecast that Apple will ship 37.2 million iPads in calendar year 2011. Combining the iPad with Mac sales would already make Apple among the largest PC vendors in the world, and Shope said he believes Apple's share of the total market will only continue to grow next year.
"By leveraging the iTunes and App Store components of the platform, Apple's unique tablet design has been able to potentially produce the most disruptive force to Wintel computing in the history of the PC industry," he said. "Tablet competitors are looming, so Apple can't rest on its laurels."
He also noted that he expects the company's gross margins to improve, which would quell recent concerns over slipping margins following the launch of the iPad and iPhone 4. Shope's analysis of Apple's platform history suggests the eroding margins are "normal," and that the company has "probably already seen the worst of it."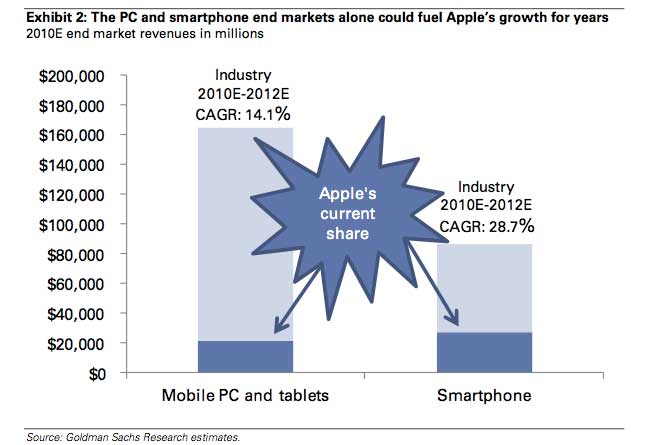 "Indeed, we believe Apple's margins have already bottomed, and we expect the company to resume its leverage-driven upside in coming quarters," Shope wrote.