Categorizing iPad as PC would make Apple largest US seller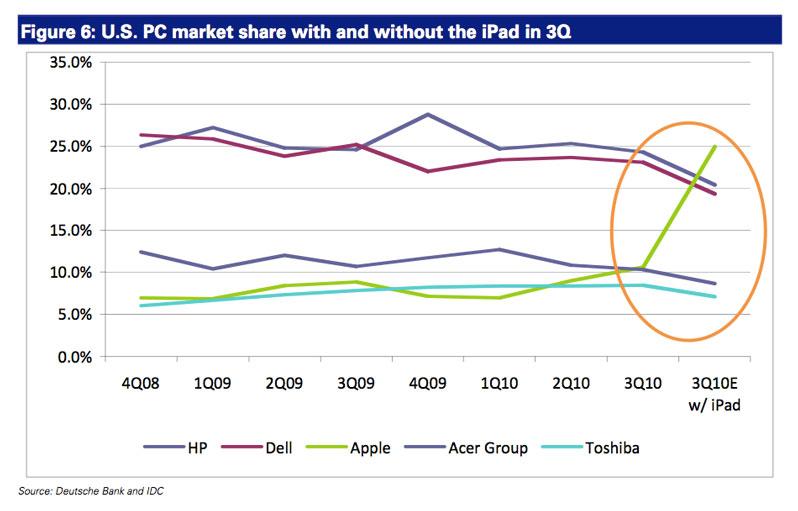 Reclassifying the iPad as a PC in terms of sales would catapult Apple past rivals Dell and HP, elevating the Mac maker to the No. 1 computer manufacturer in the U.S., one Wall Street analyst has noted.
In a note to investors, Chris Whitmore of Deutsche Bank said he believes that the iPad should be included in PC sales. Currently, the touchscreen tablet falls into its own category.
Last week, quarterly PC sales estimates forecast that Apple cracked more than 10 percent of U.S. sales for the third quarter of 2010. Research firm IDC estimated that Apple sold around 2 million Macs domestically, good for a 10.6 percent market share.
The IDC data shows that the PC market grew 4 percent year over year in the third quarter. But the market growth would actually have been 24 percent if the data included iPad sales, Whitmore noted. He has projected sales of 3.6 million units in the third quarter.
"Apple's share in the U.S. computer market is ~25% including iPad which makes it the market leader after an 18 point share jump in only 2 quarters, followed by ~20% for HP and ~19% for Dell," Whitmore wrote.
Mac units, excluding the iPad, grew 24 percent year over year, but with the iPad, Apple's sales grew about 250 percent from the same quarter a year ago. For comparison, HP sales grew 3 percent year over year, while Dell units slid 5 percent.
Apple has aggressively expanded the retail presence of the iPad before the coming holiday season, bringing the device to companies like Target and Amazon. In addition, Verizon, the largest wireless provider in the U.S., will sell the Wi-Fi-only models of the iPad starting Oct. 28.
Whitmore said he believes that retail expansion of the iPad will propel sales of the device even higher. In just its first 80 days of availability, Apple sold more than 3 million iPads.
"We believe the lack of meaningful competition in the tablet space and expanded channel distribution (Target, Walmart, etc) entering the holiday will further expand Apple's competitive lead/first mover advantage," he wrote. "The competitive response to the iPad has been remarkably absent and late (from HP, Asus, Acer, Samsung etc) and we expect strong iPad demand into 4Q (additional countries/channels) to support share gains going forward, particularly as the international roll-out gains steam."
The analyst said that all PC vendors will be impacted by the success of the iPad, but the greatest losses are projected to be experienced by HP, the largest U.S. vendor in the latest IDC figures.