Apple's iPad coming to AT&T and Verizon stores on October 28th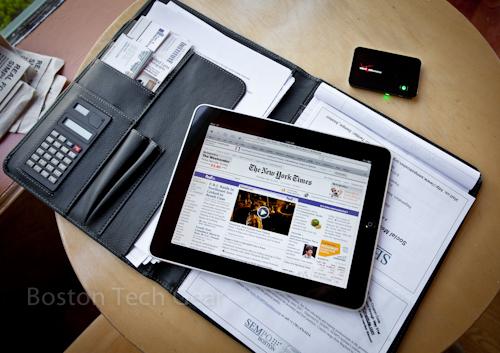 Both AT&T and Verizon announced Thursday that they will begin selling Apple's iPad in their brick-and-mortar retail stores on Thursday the 28th, with the latter offering the device in conjunction with its MiFi mobile hot spots.
AT&T said all three iPad Wi-Fi + 3G models will be available at more than 2,200 AT&T Stores starting October 28. The wireless operator said it will be pitching the tablets alongside its 3G pre-paid data plans complete with Apple's easy on-device activation and management.
Plans start at $14.99 per month for 250MB and $25 per month for 2GB with no term contract. Both plans include unlimited access to AT&T's 23,000+ domestic Wi-Fi Hot Spots. The iPads themselves will sell for Apple's suggested retail price of $629 for the 16GB model, $729 for the 32GB and $829 for the 64GB.
"We look forward to expanding the reach of iPad, allowing even more customers to experience the magic of iPad for themselves," said Tim Cook, Apple's COO. "As we approach the holiday season, we are very happy that customers will now be able to buy iPad Wi-Fi + 3G at AT&T Stores."
For its part, Verizon will offer only the WiFi versions of the iPad, bundling them with its Verizon MiFi 2200 Intelligent Mobile Hotspot routers for a suggested retail price of $629.99 for iPad Wi-Fi 16GB + MiFi, $729.99 for iPad Wi-Fi 32GB + MiFi and $829.99 for iPad Wi-Fi 64GB + MiFi.
Verizon is offering a monthly access plan to iPad customers of up to 1GB of data for $20 a month. In addition, the carrier will also offer all three iPad Wi-Fi models on a stand-alone basis.
"This is the perfect pairing for holiday travels," said John Stratton, chief operating officer for Verizon Wireless. "iPad together with the nation's largest and most reliable 3G data network allows customers to easily connect on the go wherever they are."
Verizon's MiFi 2200 (top, right) providing Internet access to an iPad | Source: Examiner
Verizon's MiFi 2200, pictured above, is small enough to fit in a pocket and allows users to create a personal Wi-Fi cloud capable of sharing the high-speed Internet connectivity of the Verizon Wireless 3G Mobile Broadband network with up to five Wi-Fi-enabled devices. The MiFi 2200's rechargeable battery provides up to four hours of active use and 40 hours of standby time on a single charge.