Apple investigating Ping-like social networking for retail shops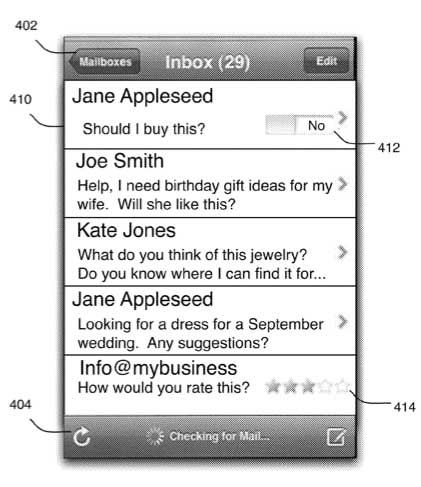 AppleInsider may earn an affiliate commission on purchases made through links on our site.
Apple has shown interest in creating a social networking tool for brick-and-mortar shopping, allowing iPhone owners to share comments, opinions and recommendations about any type of product.
The U.S. Patent and Trademark Office this week published a new patent application entitled "Social Networking in Shopping Environments." Discovered by AppleInsider, the proposed invention describes using a portable electronic device, like an iPhone, to allow customers to network with one another while shopping.
In a store, a kiosk would allow customers to access a product list and information on their phone. That product and the details about it could then be shared through Apple's social networking tool.
In one example, a user can identify items of interest and share information directly to mobile devices of their friends. From there, friends can review the products and provide their own comments and feedback.
The system could be as simple as providing friends the ability to give a "yes" or "no" answer, or a virtual "thumbs up" or "thumbs down." In one example, a shopper asks their friends, "Should I buy this?" In another, a husband asks "Help, I need birthday gift ideas for my wife. Will she like this?"
Customers could also ask open-ended questions of their friends, such as where to find a product for less money, or what they might recommend in a certain category. Businesses could also use the service as a quick way to gain feedback from customers, ranking products and service based on a traditional rating of one to five stars.
The patent application notes that customers like to have friends come with them when they shop for items such as clothes in a brick-and-mortar store, like a mall. Others like to talk to salespeople, who may recommend a product for them based on their expertise.
"These approaches, however, require the user to have their friends with them during the shopping trip, or require the users to catch the attention of a salesperson and ensure the salesperson remains available during the shopping trip," the application reads.
It also notes that customers may want to meet up with friends during a shopping trip, but relying on phone calls and text messages can require "complex coordination," such as several phone calls to multiple people in order to settle on a time and place to meet.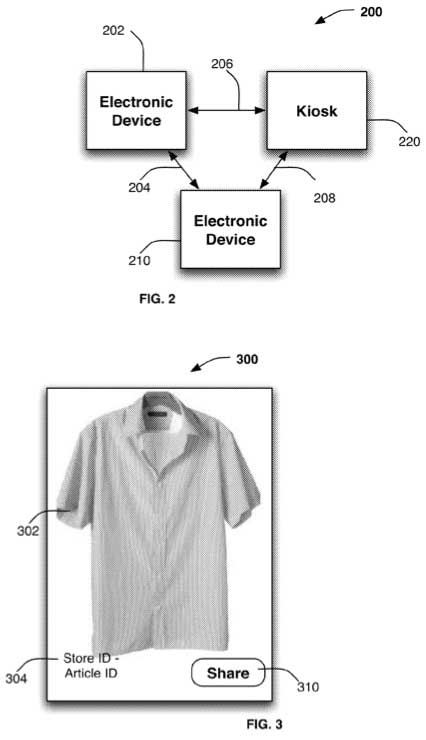 Apple's solution would allow a community discussion, all right within one application. This would allow shoppers to communicate and share easily, in one place, with a shared discussion that would not require them to be physically present with one another.
Made public by the U.S. Patent and Trademark Office this week, the application is credited to Stanley Ng., Christine Cho and Monica Tran. It was first filed by Apple on Jan. 26, 2009.
If it becomes a reality, it would be the second social networking product from Apple designed to stimulate sales. The first, iTunes Ping, launched in September, and is designed to allow users to share details of what songs they purchase and concerts they attend. It allows users to easily purchase recommended songs through the iTunes Music Store.
Ping also allows users to follow their favorite artists, who also can post updates and share songs they like on the social networking service. In November, Ping became integrated with Twitter, allowing users of that service to share their Ping activity with others.