Apple follows AT&T, drops official US iPhone 3GS price to $49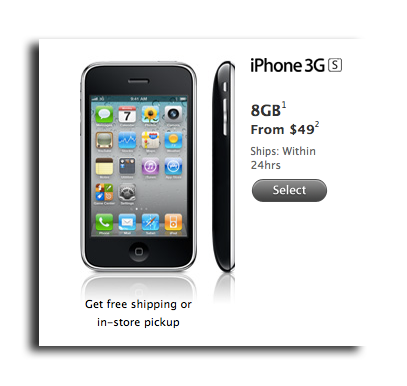 AppleInsider may earn an affiliate commission on purchases made through links on our site.
Apple has quietly dropped the price of its entry-level 8GB iPhone 3GS to $49 with a new two-year contract with AT&T, matching the new low price that last week was offered exclusively by the carrier.
The 8GB iPhone 3GS now costs $49, down from its original price of $99. The price change came quietly, without an announcement from Apple, just a few days after AT&T revealed it had reduced the price of the iPhone 3GS as well.
Last week, AT&T made it clear that the price of the iPhone 3GS sold in Apple's own channels, such as its retail and online stores, were determined by Apple itself, suggesting the $50 price cut was solely AT&T's doing. At the time, Apple's official iPhone site still offered the 8GB iPhone 3GS for $99.
The current-generation iPhone 4 models still carry the same price with a two-year AT&T contract. The 16GB model sells for $199, while the high-end 32GB model has a price of $299.
AT&T's chief rival, Verizon, is widely expected to announce on Tuesday that it will carry a CDMA version of the iPhone in just a matter of weeks. While reports have said Verizon will offer the iPhone 4, no mention has been made of the iPhone 3GS, first released in 2009. If Verizon's deal is only for the iPhone 4, the $49 iPhone 3GS could remain an AT&T exclusive.
Starting with the launch of the iPhone 3GS in 2009, Apple began selling the previous year's model with a two-year AT&T contract in the U.S. for $99. While the initial $99 handset from Apple was the iPhone 3G, last year that was upgraded to the 8GB iPhone 3GS when the iPhone 4 launched.